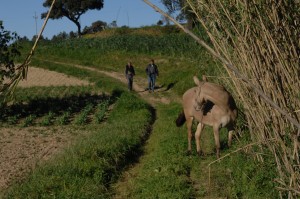 "What a cold day to be in New York!" I say to Jorge Manual Tavares da Costa and his wife Carla, the proud owners of Santos Jorge winery in Alentejo, here in Manhattan on this chilly day to accept a very prestigious "Top 50 Portuguese Wines" award at a lunch, ceremony, and tasting with Doug Frost, a Master of Wine and Master Sommelier who knows his Portuguese wines well.
I had met the couple a few weeks earlier in their native town of Alentejo when they presented their wines to me at the Alentejo Wine Route Office and later, went out to a typical Alentejo restaurant for dinner.
The winery was established in 1967 with the purpose of exploring the land of an estate called Herdade Dos Machados, created in the 19th century by one of the most important landowners of Portugal, who had different properties in Alentejo.
With its palm trees, the pictures of Herdade Dos Machados reminds me a bit of the pictures I've seen of Napa Valley from the early 19th century, when men of the "wild west" such as Mr. Dollarhyde (a cattle rancher whose land is now owned by St. Supery) were always on the lookout for great terroir. Of course, Mr. Dollarhyde was raising cattle, not wine – yet the land is perfect for grapes.
In the same way, the family behind Santos Jorge knew that Herdade dos Machados, with its  6,100 hectares was also perfect for grapes as well as olive oil (the property had a press as well as 1500 hectares of olive trees – the biggest in the Iberian Peninsula ) as well as herds of goats and sheep for cheese. If that was not enough, the estate also had irrigated land, farmland producing cereal, herds of selected breeds of cattle, and – get this – facilities for workers (houses, a school, medical assistance), etc.
Tragically, after the revolution of  1974, the Herdade was taken by the workers (who like many workers in other wineries, had been influenced by left wing radicals).  In 1980, the government  established the new law of the Agrarian Reform, and returned the land bit by bit. Some faithful workers, the couple tell me, returned some of their silver and other family heirlooms, yet much of the estate remains in dispute.
Santos Jorge owns vines in several areas of Alentejo, and produces several "brands" including the top label Herdade dos Machados, Cerro Das Pedras, and Santos Jorge, Morgado da Canita and Toutalga. I tasted through all the brands and (of course!) preferred the Herdade dos Machados brand, especially the red Reserva aged in French oak from the Allier forest for six months, and the white single varietal Antao Vaz which is macerated with the skins and fermented in inox. Wine Enthusiast gave praise to its 2010 Santos Jorge Red.
The aim of the winery is to produce modern wines with the typical character of Alentejo and Portugal for wine lovers and connoisseurs alike. You can read excellent technical sheets on all their wines at