As a seasoned wine writer, I've seen my share of creative wine promotions, yet nothing – so far – has exceeded a recent promotion for Burgundy wine created by the Burgundy Wine Board (BIVB) and Sopexa!
The idea of the promotion was to showcase the the regions and wines of Burgundy and show how well they pair with food from Manhattan's diverse restaurants.
In order to take journalists on a "virtual trip" to Burgundy, we were divided into four groups and given "maps" of Burgundy superimposed with a clear plastic leaf with a map of Manhattan on top. The idea was to travel up (or down) our city, stopping in the "Cote Chalonnaise" or the "Cote De Nuits" represented by different restaurants.  Each "stop" on the Burgundy wine route would consist of three wines to be paired with typical New York cuisine, which in short is really international cuisine.
Also at each stop, we would have a short lecture about the region, taste the wine and food, and then have a "quiz" that would result in "points" we could use to pay for wine that would be auctioned off at the end of the evening at a "mock" Hospices de Beaune.
It was a very effective campaign!  My trip started at The Breslin, a laid-back restaurant inside the Ace Hotel. Now I'm sure you know the Ace hotel is one of the coolest hotels in New York – great for people watching. On the "map" of Burgundy, The Breslin tasting was to match the Cote de Nuits. Waiting for us was our BIVB speaker, Mr. Tanguy Chatillon (BIVB), and Wine Director of the Breslin's Bar and Dining Room Carla Rzeszewski, a blonde vivacious woman.
For our Cote de Nuits tasting, Carla paired  (Pinot Noir) Bourgogne Hautes Cotes de Nuits 2009 from Domaine Michel Gros (hand picked, first six months large oak barrels, next 12 months older French barrique) with Beef & Stilton Pie, (Chardonnay) Marsannay Les Clos 2009 from Dom Bouvier (30% new French barrels 18 months) with Crostini with Chargrilled Greens and Miticreama, and Lamb Meatballs with Parmesan Cream with (Pinot Noir) Morey St. Denis 1er Cru Les Ruchots 2008 Domaine Remi Jeanniard(careful hand picking, maturing 50% of wine in new French barrels for 12 months).
The Breslin – created by April Bloomfield and Ken Friedman – is Michelin-rated and known for its artisanl products, small growers, and seasonality.
Cote de Nuits wines are mostly red and richer in style, with the Chardonnay full bodied and fruity with a long finish, which lend itself to The Breslin's Gastro-pub style food.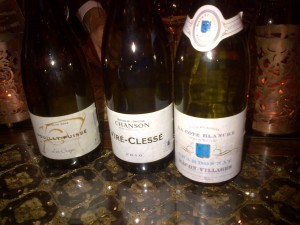 The next stop was the very elegant Junoon Restaurant, serving high end, michelin-rated Indian fare. Junoon means "passion" and the menu reflects the diversity and heritage of India. Here we paired the cuisine with wines from the Macconais, as they are fleshy, rich, aromatic, and balanced enough to stand up to the complex, exotic, and spicy foods of India. The pairing thought is that the fruity sweetness of the Maconnais balance the spiciness of the food while some of the herbaceous aromatics pair well with flavors used in the dishes such as cardamom, tumerick, cumin, fennel, and coriander.
Chardonnay accounts for over 80% of the plantings in the Maconnais, and its more southern location encourages riper grapes and more full bodied wine.
For this tasting, the (Chardonnay) Macon Village 2011 Cave de Lugny (malolactic fermentation, matured with lees in stainless steel vats) was paired with "Saag Paneer" – pouched paneer gnocchi with spiced spinach puree and omani lemon crisp.
The (Chardonnay) Vire-Clesse 2010 Maison Chanson Pere & Fils (hand harvest, fermentation in stainless steel using natural yeast) was paired with salmon tikka.
The (Chardonnay) Pouilly Fuisse Les Crays 2009 Domaine Eric Forest (hand harvest, fermentation with natural yeast in barrels, 20% of new oak for the first 12 months then blended in vats for 3 months) was paired with the tandoor cooked chicken korma, simmered in a sauce with cashew nuts, white poppy seeds, and cream.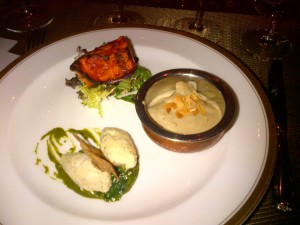 All the pairings worked well here and it was fun to "taste around" the plate. Very creative of the BIVB folks to create this pairing as one does not usually think of Indian food with wine from Burgundy. Congrats to to GM Guy Goldstein who chose the wines.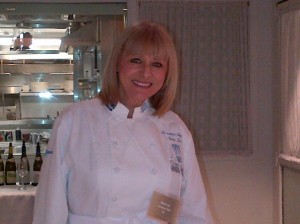 Maria Loi of Loi Restaurant
Loi restaurant was the destination for the wines of Chablis and Grand Auxerrois paired with authentic Greek cuisine. Chef Loi, a lively and gregarious woman, hosted her own cooking show on Greec's most successful morning TV network for ten years. She spends her time cooking writing and educating the world about Greek cuisine, and as you can see above, is quite photogenic – even on a Blackberry!
Wines from Chablis and Grand Auxerrois regions are steely, elegant, refreshing, mostly oak free, and "clean" – while Greek cuisine is also typified by clean flavors. Lemon is frequently used when cooking, which pairs with the crisp freshness of the Chablis and Grand Auxerrois wines.  Paired with an assortment of light dishes (chicken, etc) were three Chardonnays:  Domaine Clotilde Davenne Saint-Bris 2011 (no malolactic fermentation, wine left on the lees for several months), Domaine Christian Moreau Chablis 2010 (cool racking and temperature controlled fermentation, aging on the fine lees for ten months in stainless steel), and Domaine Billaud-Simon Chablis Grand Cru Vaudesir 2010 (stainless steel vats).
Our next adventure was at Al Fiori , representing the Cote Chalonnaise and Couchois, known for its range of white, red, rose, and sparkling wines due to the diversity of its terroir.
Al Fiori is an elgant restaurant in the stylish Setai hotel on Fifth avenue, a favorite for business lunches and dinners.
Cote Chalonnaise vineyards of the five main appellations (Bouzeron, Rully, Mercurey, Givry, and Montagny) have clay limestone soils. Rully in the north produces light and fruity red and white wines, and is also where the sparkling Cremant de Bourgogne is produced. Montagny in the south produces whites exclusively, and Bouzeron is known for its excellent Aligote. Mercurey and Givry (in the center) are known for their fine red wines.
Sommelier Emile Perrier, a very self-confident, elegant, friendly, and well-spoken woman, paired the cuisine of PJ Calapa perfectly with the wines offered. The charred razor clams with fennel, chorizo, and manilla clam vinaigrette was paired with (Chardonnay) Montagny 1er cru La Grande Roche 2010 from Domaine Louis Latour (stainless steel vats, complete malolactic fermentation), the Ligurian crustacean ragu with seppia, scallops, and spiced mollica was paired with (Aligote) Bouzeron Clos de la Fortune 2011 from Domaine Chanzy (stainless steel vats for 8 months, meant to be fresh and lively).
The Agnolotti braised veal parcels with chickpea pesto, mint parmesan, and black truffle sugo was paired with (Pinot Noir) Mercurey 2010 Domaine Michel Juillot (open fermentor, pumping over and punching down of the cap 1 to 3 times a day. 12 – 16 days vatting.  First racking after malolactic fermentation, then 14 months in oak barrels with 15% new).
This was an excellent, well thought out pairing with cuisine that really brought out the best of the wines. What was remarkable was how the ingredients – in a subtle fashion – all worked together to bring out the wines' individual flavors …
After all that wine and cuisine, wait, there's more! The next stop was Sushi shop, the renowned European sushi giant, launched its first New York restaurant in February 2012 in midtown. Sushi is made fresh daily, with guests able to enjoy over 150 different choices of sashimi. Maybe you'd think the BIVB folks would make this a "white wine region" yet they went red with the Cote de Beaune and Hautes Cotes de Beaune.
The red wines of the Cote de Beaune are traditionally lighter in style, but very aromatic with the kind of fruit that will not overpower the delicate flavors of Japanese food. Chef Tony created an assortment of cuisine to pair with the wine including Yellow Tail Serano Sashima, Wagyu Beef Tulip Sushi, Salmon Roe Sushi, Chicken Caesar Roll, Chili Crab Spring Roll, Mango Tango roll.
The wines included Bourgogne Hautes Cotes de Beaune 2011 from Domaine Henri Delagrange & Fils (a mix of stainless steel tanks and 228 – 500 litre vats for complexity), Volnay 1er Cru Clos des Angles 2009 Domaine Olivier LeFlaive (stainless steel vats, controlled temperature, malolactic fermentation in barrels, 14 months in vats), and Savigny Les Beaune 2010, Domaine Simon Bize (4 – 6 week alcoholic fermentation, malolactic fermentation beginning in January, then wines aged in barrel six to 12 months with 15% to 30% new oak).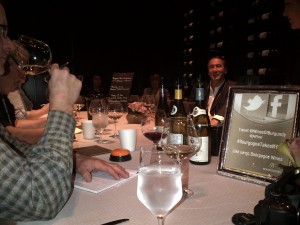 After visiting the various regions of Burgundy in small groups, we all met up together at the City Hall restaurant, meant to represent the Hostel Dieu in Beaune, where the "Hospice de Beaune" wine auction takes place on the third Sunday in November. Wines are donated by various domaines to be put up for auction, with the money raised going towards the care of the needy and maintenance and repair of the ancient buildings.
Our group pooled together all the "money" we won by answering questions right and bought two "lots" of wine, which we divided between ourselves!
A very fun and creative event! It was great to see all my friends from Sopexa and the BIVB … with special thanks to Marie Christina Batich, Jeanne-Marie de Champs (This year's spokesperson who conducted the auction very winningly), Alice Loubaton, and Cecile Mathiaud!
You can see my Burgundy adventures here!