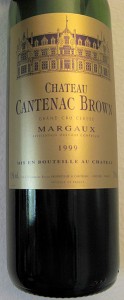 John Lewis Brown purchased what would be Chateau Cantenac Brown at the start of the 19th century, put his name on it, and designed the chateau in the Tudor style. The property changed hands several times until the latest to the famous Cognac producer, Remy Martin,  who then sold it to AXA, the insurance company with several Bordeaux estates in their portfolio. (See my visit to the AXA properties here).
Today, the Simon Halabi family are the owners of this 54 hectare Bordeaux wine property on gravel and sandy soils.  Planted to 65% Cabernet Sauvignon, 25% Merlot, and 10% Cabernet Franc, the  average age of the vines are 35 years of age. The current blend in the vineyards shows an increase in Cabernet Franc and the vines are planted to a density of 8,500 vines per hectare. Yields are high, averaging 55 hectoliters per hectare.
I just received a technical sheet from the estate about the 2012 vintage, saying that it was a difficult year … at tye end of August, they green harvested (removed green or slightly colored grapes) to keep the best ones. The white grapes were harvested September 12 then barrel fermented to give it weight and fullness.
The Merlot was picked October 1, and Cabernet Sauvignon was finished October 17.
The grapes were sorted with care … first at the entrance of the winery then a second time between destemming and crushing by hand or by optical sorting machine.
According to the winery, the first pump overs revealed beautifully colored juice and soft tannins.
Maturation
Chateau Cantenac Brown 60% new French oak barrels
BriO Cantenac Brown 25% new French barrels
Blend
Chateau Cantenac Brown 65% Cabernet Sauvignon, 35% Merlot
BriO Cantenac Brown 45% Cabernet Sauvignon, 45% Merlot, 10% Cabernet Franc