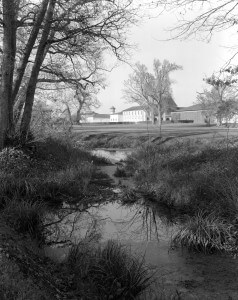 Amidst the glittering parties during April's En Primeur in Bordeaux, Henri Lurton, owner of the 2nd Growth Brane-Cantenac, launched the 3rd "Brane Seen Through the Eyes and Lens of …" art exhibition series.
Following on the heels of last year's dramatic, more impressionistic photographer Eric Boissenot, is this year's modernist photographer Francois Poincet, whose fun, quirky impressions of Brane's loyal workers inspire a chuckle.  "My goal was to look at the work in the vineyard and vat room with a sense of humor," Poincet told Drinks Business during last week's April 10th opening.
"Many guests expressed a desire to purchase the works of Eric Boissenot," Henri Lurton explained, "yet we decided to auction them off on June 17, during VinExpo, to raise money for Solidair, a charity organization founded by pilot/physician Dr. Philippe Chastan, who flies to Africa on a regular basis, distributing surgical supplies for operating and resuscitation rooms. By flying directly into the poorest, neediest villages, Dr. Chastan can avoid the precious cargo being stolen or re-rerouted. Though pharmaceutical companies and hospitals donate medicine to his cause, the financing of these expeditions is entirely up to him. This is why we've chosen to give Dr. Chastan all the money from Eric Boissenot's auction to help him increase his well-targeted actions and reach new destinations, such as Romania or Albania."  To sweeten the deal, four lots of very good Brane-Cantenac wine will also be auctioned off in order to meet the auction's 30,000 Euro objective.