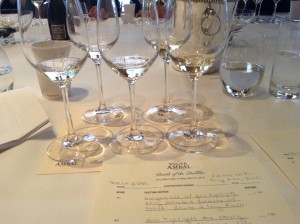 "Now Chile is planting Marsanne and Rousanne," says Fred Dexheimer MS, giving a presentation to a packed room full of sommeliers at CorkBuzz today.
Having just arrived a few hours before from a trip to the wine regions of Austria, I would have preferred a break before delving into a new region – yet never one to miss one of Fred's excellent talks or secrets of a new region.
Some of the 'secrets' I've known … cool climate Chardonnay rules, mainly in the Limari valley near the coast, and also San Antonio. We had three different expressions of Chardonnay from the above-mentioned regions, and also the (new to me) region of Malleco, which is below Bio Bio in the very south.  The wines Dex chose were under $20 and in three different styles, ranging from crisp and clean to oak with roasted pineapple notes. All were delicious.
As for the reds … the "icon flight" of Errazuriz Don Maxiamon 2007, CyT Don Melchor 2009, Los Vascos Le Dix 2010, and Santa Rita Pehuen 2007 were fabulous.
Chile has a lot to offer and thanks to Dex, Wines of Chile, and of course the Guild of Sommeliers for bringing them to us!