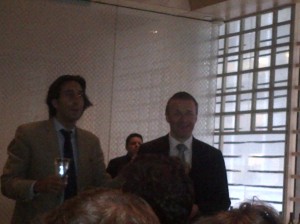 This week producers from Le Cercle Rive Droite were in New York to showcase their 2012 vintage.
According to president of Le Cercle Rive Droite Dr. Alain Raynaud, the 2012 vintage had its challenges yet turned out very well with thanks to extra work in the vineyard.
I was able to taste many of the 2012 vintages from Le Cercle Rive Droite, which is comprised of 143 of the most prestigious vineyards from the Right Bank of the Gironde estuary. There are 18 appellations represented. Virtually all were excellent quality – I was surprised by the firm yet smooth tannins, and concentration of fruit.
The "new news" now is that next year they are preparing to welcome Sauternes and other appellations on the left bank next year – stay tuned for new news!
Today's lunch at Le Bernardin was the finale to an exciting week that involved many trade and consumer tastings. Le Bernardin Head Sommelier Aldo Sohm spoke a bit about the importance of Bordeaux on his list, especially as the focus here is on fish.
Really excited that Le Cercle Rive Droite will expand to other appellations, and will report back on this new development.
Chateau Fontenil was well represented by Sarah Tanis, with the Rolland Collection winery celebrating its 25th anniversary tonight!