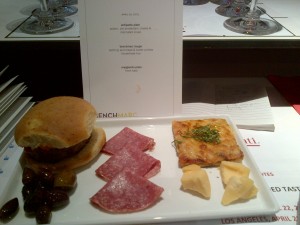 Very interesting guided tasting today at Astor! Scott Carney MS gave a talk about the region and sub-regions before a guided tasting of nine wines – all very different even though they were Sangiovese based.
Most of them had Caniaolo and Colorino added (the traditional blending grapes) and some had the international varietals Merlot, Syrah, and Cabernet Sauvignon.  Most were fermented in stainless steel or glass-lined cement, yet a few had a small portion of oak.
The unoaked, wines, tasted of oak, the result of the spicy Sangiovese grape. Scott said that you can tell the difference by noting a sawdust element to oaked wine, or the astringency on the palate.
After the tasting, we had a quiz and blind tasting.
Finally, we were treated to the above meal, with Gregory Dal Piaz of Snooth talking about how Chianti pairs with food. It was interesting to try the different foods with wines from the various regions.
It was a great way to re-acquaint myself with Chianti, which I studied for various exams and had visited a few times.