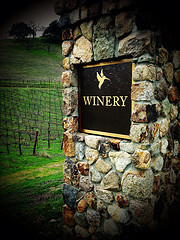 This week I am trying two wines from Clos LaChance, a family-owned, certified sustainable winery in the Northern Central Coast region. The winery uses modern winemaking technology mixed with old world philosophy …
… gravity flow, small lot fermentation, barrel aging and unfined/unfiltered wines paired with high tech computer monitoring.
Clos LaChance Estate Zinfandel 2010
California Zins are always a matter of personal taste … One can find all styles especially in terms of texture and viscosity, yet I prefer the approachable balance of Clos LaChance, with nice berry flavors and a generous pinch of spice. Intense yet not cloying, with a clean long finish.

Clos LaChance Estate Cabernet Sauvignon 2009
Very balanced Cabernet Sauvignon with good grip, racy moderate acidity, and a long finish along with a burst of blackcurrant flavors (berry and leaf). The acidity is remarkable here, really helps cut through a great steak.
Priced well below $20 they are excellent values and show lots of tender loving care in the winery and vineyard.