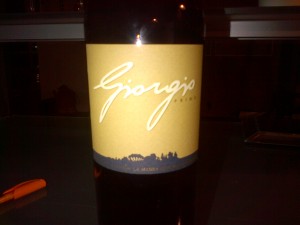 Ah, there's nothing quite like a SuperTuscan. Typically, a SuperTuscan refers to "Bordeaux Style" wine (blends of the typical grapes of the region, Cabernet Sauvignon, Merlot, Petite Verdot, Malbec, Cabernet Franc) except that the climate and soil and aspect (and sun!) of the region is completely different!
Typically, SuperTuscans are also quite expensive, as they use a large percentage of new French oak and require a lot of tender loving care in the vineyard. I'm happy to report that the taste is so unique and specific to the region I was able to pass my CWE for the Society of Wine Educators when one was served to me blind (without identification).
Okay, so what makes a SuperTuscan a SuperTuscan and not a Bordeaux? For me, perhaps the best way to describe it is that one may think they are tasting a familiar blend, yet from a warmer region with a completely different sort of soil.
Having just come back from En Primeur 2013 in Bordeaux, I've had every type from every region 7 days running, yet no way will I confuse the Fattoria La Massa Giorgio Primo 2009 with a French Bordeaux. It starts with the incredible sense of soil. Yes, Bordeaux has soil too (especially in Graves and Pessac-Leognan). Yet in my imagination I can see the soil being dark, moist, and rich with lots of minerals and organic matter. And then the sun! To get grapes this ripe and luscious you need lots of sun, and also some sort of altitude or another aspect to keep the acidity.
All in all, it's an extremely well balanced wine with flavors of concentrated rich wild cherry, darker herbal undertones, some cinnamon from oak, nutmeg, and other Christmas spices. Actually, it is so rich and complex it is like an elaborately wrapped Christmas gift with lots of gold ribbon and red wrapping paper, with spice sparking against the texture like glittering tree ornaments.
Of course, the 2009 is way too young — try it in 2016 at the very least yet if you can hold out, do so! You will find dark brooding cherry, a light touch of tobacco, elegant designer leather, and overall the kind of red velvet flecked with gold character you see in fine Italian tapestries from noble houses. Earthy in the most structured and elegant way possible.
Reading the vintage and production notes, I see they have a new collaboration with "flying winemaker" Stephane Derenoncourt, and they are experimenting with new agricultural practices.  This includes: careful selection of Cabernet Sauvignon (60%), Merlot (35%), and Petit Verdot (5%).
The soils are clay and galestro, clayey schist, and calcareous marl.  After fermentation the wine enters new French oak and then ages for 18 months. A really great wine!