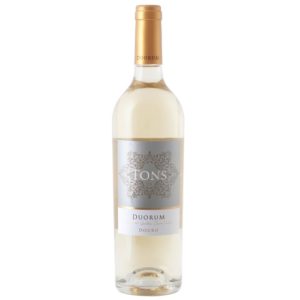 Last night at The Modern in Manhattan I tasted some really fabulous wines – very surprising!
The biggest surprise was a Portuguese white, Tons de Duorum 2011 – frankly, I did not know what to expect as I do not have white wines from Portugal very often. Tasting it (without knowing the varietals) I would swear it was a Sauvignon Blanc with its floral aromas and bright racy acidity. It turns out to be a mix of local grapes (30% Viosinho, 30% Rabigato, 20% Verdelho, and 20% Arinto.  You will find tropical and citrus notes on the nose and palate, and it paired very well with my first course of Scallops.
The red was a 2006 Alente from Alentejo – an area of Portugal noted for their sophisticated red wines. The grapes here are a blend – Alicante Bouschet+Aragonez+Trincadeira(which gives it its spicy flavor). I liked this wine alot, very balanced yet in some ways fruit-led with smooth tannins and spice. A great match for steak and lamb.
I visited Alentejo a few months ago and found the wines very interesting … you can read about my adventures here ….