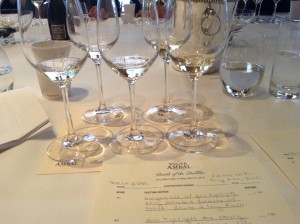 Today at Le Bernardin several of NYC's best sommeliers and wine writers were invited to a blind tasting to compare the 'Traditional Method' Veuve Ambal from Rully to four competitors from Champagne (we are talking the BEST houses).
What was personally interesting about the tasting to me is that I just read in Drinks Business UK that Eduardo Chadwick of Vina Errazuriz also conducted several blind tastings comparing his Bordeaux style wine from Chile to several top Bordeaux … and as in the "Judgement of 1974" the Chilean Errazuriz won!
So today — having read this article — was curious about how this sort of "underdog" versus the "landed gentry" would be conducted. Was their any room for cheating? And of course, what would I personally think of the wines?
Just so you know, it was discovered after the tasting the competitors were four of the most famous world Champagne houses … Veuve Clicquot, Tattinger, Nicolas Feuillate, Perrier Jouet.
Not knowing that at the time, I was thinking about how a 'simple' cremant could compare. Would the competing wines be just generic champagne or major houses?
The simple answer is that in all the sparklers the quality was there … after all, they were the traditional method and Chardonnay/Pinot Noir blends.
The significant differences would be in the grand cru plots each held and the care (and yes, capital with which to provide that care) put into the wines.
According to CEO Jacques Alexandre Azoulay of Gabriella Fine Wines (who represents Veurve Ambal) the owners of Veuve Ambal decided they had a good product that could compete against traditional Champagne houses and wanted top tasters to rate them.
As a participant, I did not see the bottles being poured yet all the sparklers to me were absolutely top end. On a point system, all over 90 points, the Veuve Ambdal among the highest on the list. From a style point of view, it seemed aimed at a very targeted market with its rich flavors and Brioche.
Pierrick Bouquet, President of Able Social Media Marketing helped organize this event, and it was truly fabulous.