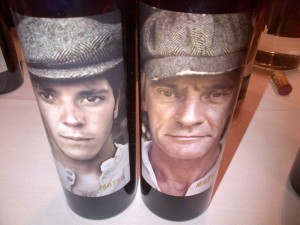 So today marks the annual date of the Spanish Wine's Cellar visit to NYC, usually held (as today) at Gotham Hall. It's a showcase of up-and coming wine producers who are seeking representatin in the US.
Of course, if you're reading this column you know the trendy areas like Bierzo, Priorat, Rueda, and Rias Baixas, yet you could find some great Ribera del Duero and Rioja as well.
As interesting as it was to experience the wines, I had a lot of fun (as much 'fun' as a MW student can have when faced with essay questions about new trends, bound to be in future exams) looking around the room for the most outrageous bottle designs.
Some of you reading this online magazine know that I wrote my thesis for the Wine and Spirits Educational Trust (WSET) on millennials and the way they buy wine (influencing factors). So when I saw the two bottles above I had to stop and chat with the representative.
The bottles (only two were on display, the "young" man (joven) and the "middle aged" man (crianza), which translates to how much time the wine spends in oak according to the Spanish quality level system. The "old man" (riserva) was missing. Basically the faces were a way to instantly convey to a customer the "age level" of the wine.
Also interesting were wines from "Wine from Galicia" (wine importers and wholesalers) which featured a curiously shaped bottle, resembling either a high end vodka or water (see it below).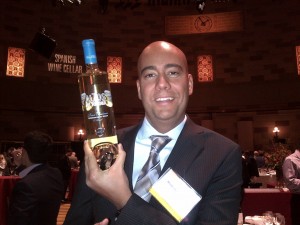 The lettering on the bottle looks super cool, too – like something that would be brought to you in a gleaming silver ice filled vessel at the Nikki Beach club in St. Barts or Miami.  It is a blend of Albarino and two other wines.  "Is this for the ontrade (restaurants) or a store?" I asked. In a wine shop, it seemed as if it would grab a lot of attention, yet on a list no one would notice its unique shape. Also, I was surprised that it was more expensive than the attractive, traditional bottle of 100% Albarino with its beautiful sedate gold script.
The two last interesting things I discovered was the wide variety of Cava … most students of wine know that it is made in the traditional method from the three classic grapes of Parellada, Xarel-Lo, and Macabeo. But forget all that because on a recent MW mock exam we had a 100% Macabeo … and I saw several examples of this 100% Macabeo cava today! When I reached Francisco Pulido, export manager for United Wineries, I asked him to pour me his Cava and just keep silent until I decided the blend. Very relieved to identify it as the traditional 3 Spanish varietal blend, as it was more "Champagne like" in its medium and rather plush mouse and balance, whereas the Macabeo was screaming with freshness and tart acidity.