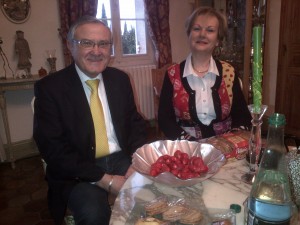 A lovely experience visiting Mr. and Mrs. Jacques Capdemourlin during En Primeur 2013!
This chateau in Saint-Emillion is said to be the oldest in the region and had been in the family for hundreds of years.
At the end of the 1970s, Jacques Capdemourlin established the unification of the vineyards, grouping together a total of sixty hectares which comprise the Capdemourlin Wine Estates.
The winery has three Saint-Emilion Great Classified growths, including Chateau Balestard la Tonnelle, Chateau Cap de Mourlin, and Chateau Petit Faurie de Soutard in addition to the traditional Chateau Roudier and the reasonably priced new venture, Vignobles Capdemourlin.
I loved the Balestard la Tonnell … the vineyard is located on the edge of the Saint-Emilion village and derives its name from the clergyman Canon Balestard. The "Tonnelle" that stands in the heart of the vineyard was formerly an observation tower during the 15th century, and has become a symbol of the property.
There are 10.6 hectares on mostly limestone soil, with "old vines" at 33 years. The cepage is 70% Merlot, 30% Cabernet Sauvignon.
I liked all the wines, yet what I really appreciated about the visit was meeting this lovely couple, Jacques and Francoise, who full of joy and really love their live at the Chateau and making really good wine. Years earlier, Mr. Capdemourlin had been a leader in the St. Emilion region, putting it on the fine wine map.
Francoise grew up in a winemaking family as well, and when they married, her family's Chateau Petit Faurie de Soutard became part of the Capdemourlin Wine estates.
Beyond the couple's warmth, hospitality, and the well-crafted fine wine, it was a pleasure to visit the house which was a recent purchase especially to invite friends and family to visit. Walk through the front door and you would swear you were in an exquisite, high end gift shop, with everything laid out as if it was about to be photographed for a decorating magazine. Mrs. Capedemourlin collects many things … and has an artistic way of displaying everything.
Their English was better than my French, yet we spoke in both languages and somehow came to understand one another — such is the power of wine!