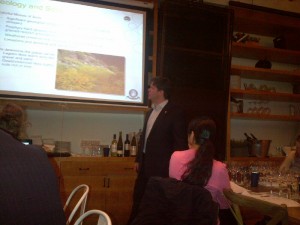 Recently back from a trip to Alto Adige, Master Sommelier Geoff Kruth. lead a tasting and seminar of the wines of Italy's most northern region.
It was an interesting seminar … the focus was on the multitude of varieties grown and unique microclimates within the region.
I was in Trentino a few months back … the focus was on the sparkling wines of the region. Today it was on the dry whites and the reds.
Geoff Kruth who is a key person at the Guild of Sommeliers was an energetic and engaging speaker. We learned a lot about the history of the region, which requires a great deal of study. For example, my trip to Trentino was four days and in that time we barely scratched the surface of what the region had to offer. What I did see was the dramatic topography, with vineyards 600 – to 3300 meters, and a tapestry of different soils. And during this time, we only tried the wide variety of sparkling wines from the traditional method!
Today we explored only the Alto Adige region, with its surprising majority of red wine (Schiava) and the usual suspects of white (Pinot Grigio, Pinot Bianco).  We also tasted an interesting Sauvignon Blanc and a delicious dry Gewurtztraminer, along with some tanin-rich examples of Lagrein.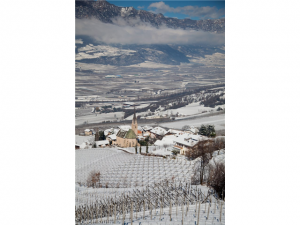 At the end of the seminar and tasting we will have a brief written competition where you can show off your knowledge of the area's wines and your food and wine pairing skills! One winner from each of the five seminars will accompany us on a trip to Alto Adige this September!