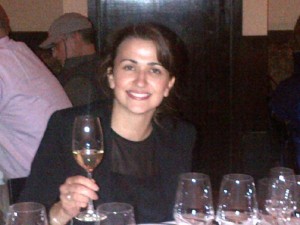 "You're French is quite good!" exclaims the very attractive and very polite Anne-Laure Helfrich, project manager for her family's Les Grands Chais de France. Anne-Laure and oenologue/brand manager Nicolas Haeffelin were in Manhattan to showcase their Grand Cru wines, which astonishingly perfectly made.
I suppose one can argue that when you own Grand Cru terroir, the wine makes itself. Still, there is tremendous vintage variation in the area, and with pickers not allowed to work on Sunday (yes, it is an official law) one has to be incredibly careful in the vineyard and winery.
Though I usually find winemakers and winery owners quite pleasant and interesting people, Anne-Laure was really refreshing and fun to talk to. It's not so often that one can speak with the scion of a small quality winemaking family about her experiences growing up, working the harvest, and what life in general is like in a small Alsace town. Six generations have lived in the region.
Anne-Laure's English is excellent (she was very kind to compliment me on my very elementary French) as she has taken internships at many US cities and pursued advanced training in International management.
All the wines were fabulous, and I found the Grand Cru Gewurztraminer particularly outstanding! They are beginning to export to America, so when you see the Haeffelin label, grab it!
The tasting began with Cremant d'Alsace, made from 100% Pinot Blanc. It is made in the traditional method, and aged on the fine lees for three months before being bottled for its second alcoholic fermentation and aged on the lees for 24 months to give it an incredible richness.
The 2012 Helfrich Pinot Blanc is 100% Pinot Blanc, very delicate with aromas of concentrated fruit – very fresh and lively.
Now I really appreciated the crisp, refreshing, aromatic 2012 Helfrich Riesling, with a nose of mandarin orange and a sense of minerality – sharp-edged and vibrant.
The 2012 Helfrich Pinot Gris is 100% Pinot Gris, with a slight smokey flavor in addition to flavors of quince and apricot.
The 2011 Helfrich Pinot Gris Grand Cru was also made from 100%, with the vineyard facing south and at an altitude between 600 and 1000 feet. The soil is loam covering a hard calcareous bedrock. It is dry farmed (the law in Alsace) – Very round with well balanced acidity.
The 2009 Helfrich Gewurztraminer Grand Cru really knocked me out .  It was rich and opulant, with a lush, honeyed, fragrant character that would go so well with roasted scallops. The residual sugar was 24.4 grams per litre.