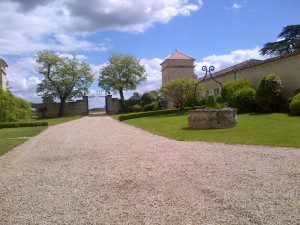 The Association of Wine Educators, based in the UK, organized a fabulous trip to Bordeaux to celebrate our 2oth anniversary.  

Our home base was Chateau Pey La Tour, which is owned by Dourth.  So on Thursday May 9th, we gathered together at the CIVB in Bordeaux, which is near the tourist office to hear Wendy Narby speak about new developments in Bordeaux.
Then lunch at Le Café Lunaire near the river. It was a cool and rainy day but great to see old friends. We left the restaurant for Chateau Pey La Tour in Salleboeuf, which is owned by Dourth. It was too wet for a vineyard visit, yet Marie-Helene Inquimbert gave an excellent history of the region, the company, and a tutored tasting of their many properties which all have different soils and aspects.
Dinner that night was at Chateau Pey La Tour, which started out with Champagne Thienot Brut, and continued on with Chateau La Garde 2011 from Pessac-Leognan (with asparagus), Chateau Le Boscqu 2005 with the Pork, Chateau Belgrave 2002 with the fromage, and Chateau de Ricaud 2009 from Loupiac with the desert.
Chateau Cheval-Blanc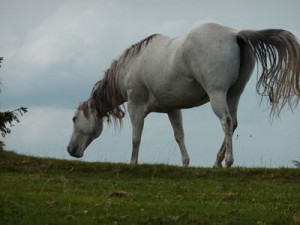 The next morning we had a visit and tasting at  Château Cheval-Blanc led by Stephanie Duhar, who is involved with public relations. We learned a great deal about why the new chai and why it was built. It is gorgeous and actually designed for the well-being of the worker, with the thought presumably being that the happier the worker the better the wine – that is why in the Jura musicians often sing to the Compte cheese. We tasted the 2000 Vintage of the Cheval Blanc as well as the 2006, and the 2006 vintage of Le Petite Chateau. An incredible experience – I found the 2006 Cheval Blanc rich and full bodied and though one can drink it now, wait for another ten years. I tasted the 2012 of both during En Primeur.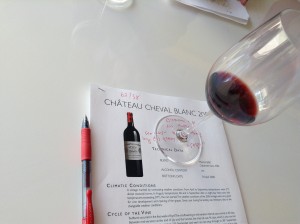 At noon, we had a visit at Chateau de Sours where owner Martin Krajewski gave us a tour of the property, which he rebuilt. After seeing what he proclaimed to be the "largest press" in Bordeaux I mistakenly was not expecting top quality wine. Yet the sparkling and still rose was fabulous!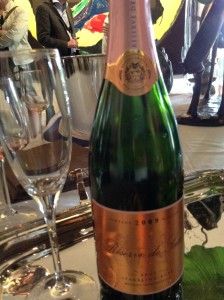 And lunch paired with the wines was very nice.
The Gala dinner that night was at Parveil de Luze, Margaux hosted by Alliance des Crus Bourgeois. It started with a formal reception and speech by Baron de Luze, with Pol Roger champagne, and then progressed to a tasting of wines from the Alliance des Crus Bourgeois.
The message Bordeaux is trying to get out is that these are quality wines, ready to drink now, that are quite affordable. The wines had different characteristics yet very balanced with concentrated fruit.
I was lucky enough to be seated next to charming Baron Frederic de Luze of Chateau Paveil de Luze in Margaux, the host of the evening, and brilliant Richard Bampfield MW who arranged many of the visits to the Bordeaux properties.
Early Saturday, our group visited and tasted at  Ch Haut-Bailly in Pessac Leognan – I had to leave early for my plane back to NYC, yet here is a story I wrote a few weeks ago during En Primeur and more about the winery.  Fabulous trip!