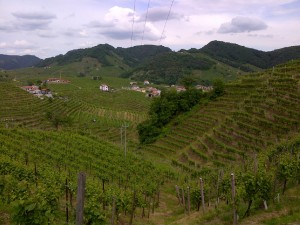 "All this Prosecco DOCG, so little time!"
As journalists from various points of the world sauntered into the elegant Hotel Le Betulle in the Congegliano Valdobbiadene region of NorthEast Italy, all eyes were upon the gorgeously laid out bottles of Prosecco in various iced buckets, the foiled necks of the bottles a surprising rainbow of colors.
Many might think that Prosecco suddenly sprang into the world's market to compete against Cava, Champagne, or California's sparkling wine, yet Prosecco DOCG has actually been made in this region for hundreds of years from the glera grape.
Unlike Champagne, Cava, or California sparklers for that matter, It is made in the "Charmat" method which means that the secondary fermentation (the one that gives it the bubbles) is made in a stainless steel tank instead of a bottle.
This is actually a choice for its style, which is meant to reflect the fresh, fruity, floral nature of the glera grape (by DOCG law, glera must compose 85% of the blend).
Here at Hotel Betulle, the party starts as soon as the first cork is pulled. The first bottle is from the Conegliano region, and it has a very smooth, gentle, "pillow puff" of a mousse. When the second bottle, which comes from Valdobbiadene is popped and poured, it seems more mineral and defined.
In speaking to representatives of the region, it is discovered that both these regions are characterized by completely different terroir and climate conditions.
The following day, at a lecture given by a delightful and very personable speaker named Aurura and an enologist, we learn more about the region.
Prosecco DOCG consists of 15 communes, with the territory full of different microclimates and soil and wind as well as exposure to sun. The special conditions of this region and the superior grapes it produces are the key to the differences between the higher quality DOCG Prosecco and the more mass produced DOC Prosecco.
Valdobbiadene has ancient soils of sandstone, quartz, and clay and was once the Mediterranean sea floor. Wines from this area have great finesse with floral perfumes such as wisteria.  Vines are East facing for maximum exposure to sun, and the average rainfall is 1250 mm a year.
Beyond the 85% minimum of glera demanded by the DOCG, producers are allowed to use 15% of other approved local varieties such as Verdiso, Bianchetta, Perera, and Glera Lunga.  Some international varieties such as Pinot Nero (without skin) and Chardonnay are allowed.
Types of Prosecco DOCG
Most people assume there is one "type" of Prosecco. Yet the degree of residual sugar can vary wildly.
If you like the dry style, tell the waiter you'd like "Brut" which has up to 12 grams of sugar. This is a dry style and can pair very well with cuisine – you can enjoy it with many different types of food.
For an aperitif, you might prefer to ask the waiter for "extra dry" which has between 12 – 17 grams of residual sugar.
Yes, I know, it sounds strange to ask for "extra dry" or a sweeter taste, yet that is sparkling-wine speak around the world.
And even more confusing, if you prefer an even sweeter wine, ask for "dry" and you will receive a wine that can have between 17 and 35 grams of residual sugar.
If you buy Prosecco DOCG in the store, enjoy it at your earliest opportunity as it is best the year following the harvest.
After Aurura's talk, we taste various examples of the "base wine" which is made before the secondary fermentation, each from a different region.  Some are floral, some have notes of apple or tropical fruit such as bananas or pineapples.
After the base wines, we try their sparkling counterpart, and note how some of the flavors have changed after fermentation.
That afternoon, we are taken to see some of the remarkable sandstone and clay soils – quite dramatic really – and then to the incredible Cartizze region, famous for its steeply sloped vineyards.
I was told about Cartizze by some Italian wine specialists before my trip, yet nothing could quite compare to its magnificence!