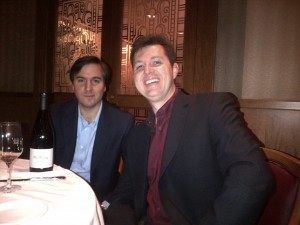 You may feel it's rather unusual to walk into the luxurious Peacock Lounge in the elegant Waldorf Astoria hotel at 9:30 in the morning and be greeted by a tall, smiling winemaker and six bottles of wine.  Yet mornings are the best time to taste, and California winemakers visiting clients and journalists in Manhattan need to carve out time where they find it.
So I'm here with Chris Munsell, Director, Coastal Winemaking for Gallo Family Vineyards. He is in NYC today to talk about MacMurray Ranch. Though I am flying to  France Saturday for a few weeks – and only 48 hours ago had returned from a trip to Conegliano-Viabbiadene – I am excited to talk to him because I remember tasting MacMurray a few years back and liking it enough to remember the name.
In any event we begin to taste through the wines, starting with the 2011 Russian River Sonoma County Chardonnay. It's big and buttery yet balanced, what you'd expect from a quality Sonoma wine with rich apple and tropical fruit flavors. The wine was aged on the lees and stirred every three weeks, then aged with a mix of new and used French, European, and American oak at medium toast levels..
Then off to the 2011 Russian River Valley Sonoma County Pinot Noir, which is the brand I bought and remembered because I found it curious how a wine so balanced and delicious – definite quality – could be found for just about $20. It's a delicious and well balanced wine with flavors of raspberry, cherry, red currant, and boysenberries as well as hints of lavender and mushroom and a very subtle oak influence.
The 2010 Russian River Valley Reserve Sonoma County Pinot Noir is next, with the higher price tag ($35- $37) represented by the TLC the wine receives in the form of distinctive Pinot Noir clones from select vineyard blocks at MacMurray Ranch. For example, I discover Block L07 is known for its boysenberry and lavender notes, Block T09 for flavors of raspberry and rich cherry, etc.
The wine was aged in oak for 13 months, eight months as individual lots from the various blocks and then five months assembled after blending. One can understand how all of this care is responsible for the quality of the wine, as the tannins are quite silky and the flavors richly nuanced.
Chris's favorite wine is of course the most expensive – it is the 2010 River Valley Winemaker's Block Pinot Noir, produced in the challenging 2010.  These grapes were hand-sorted, destemmed, and cold soaked for five days, with punchdowns two to three times a day and malolactic fermentation in barrel. A combination of new and used French oak barrels from top French coopers were used. On the palate, a very rich and elegant wine with silky tannins and nuances of many flavors (dark cherry, pomegranate) along with some floral notes.
All these wines were good, yet there is a style for everyone and my personal taste was for the 2010 Santa Lucia Highlands Pinot Noir. Why? Perhaps because I like black coffee and pronounced but fine-grain tannins along with the darker, richer, more intense flavors.
Chris is a pretty cool guy – he is extremely smart and exceptionally friendly. We spoke a lot about the technical aspects of winemaking, the market, and fun events MacMurray gets involved in to introduce themselves to wine lovers.