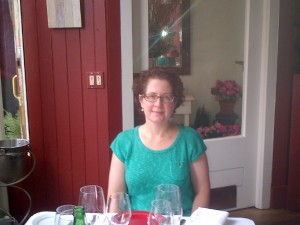 A lovely lunch today with Janet Myers, the Director of Winemaking and General Manager at Franciscan Estate. She was in New York to promote her exciting new white wine called Equilibrium, a blend of Chardonnay, Sauvignon Blanc, and Muscat. It's a very interesting wine – highly aromatic with crisp acidity and a rounded, lifted, slightly off-dry flavor. Tasting it before realizing it was a blend, it had the character of a Sauvignon Blanc yet rounder. A very good aperitif or first course wine for restaurants.
Now the Cuvee Sauvage Chardonnay 2011 was really stunning, very Burgundian in character with that sweet melted butter character.
After the whites came two reds, one a Meritage called Magnificat 2009 …. it is a Bordeaux style wine for people who feel Cabernet Sauvignon on its own is too strong for them. I liked it a lot, very soft and refreshing. And we also tried the Mount Veeder Cabernet Sauvignon 2010, a nicely structured wine that can improve even more with time.
I really enjoyed talking to Janet about her work at the winery and what the market is asking for — the Equilibrium, for example, meets the needs of people who are asking for wine that is officially "dry" yet sweeter in style. And from the way she described the tasting room, I can't wait to visit — apparently one can take classes in making one's own Bordeaux blend from the winery's grapes!