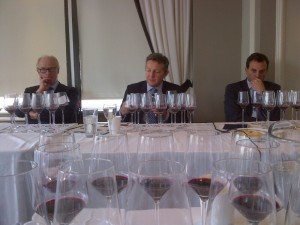 "Not many people in this room will be around when the 2011 vintage comes of age," pronounced a member of the Symington family, as we tasted the 2011 vintages from their various holdings (Warre, Dow, Cockburn's, Quinta do Vesuvio, Graham's)  … and (please do not be jealous!) also the Cockburn's 55, Graham's 66, Warres 70, and 94 Quinta do Vesuvio.
Of course the vintage older wines were incredible, really a once in a lifetime chance to try them and compare them to the youthful 2011.
The Symington family acquired these brands over the years, yet early on wanted to keep the individual styles.
Each brand has different vineyards with different aspects and also different blends of grapes that create the unique characteristics.
As we tasted through the wines, I took the extra step of contrasting the 2011 vintage with its aged branded counterpart, seeing how a period of 30 – 50 years has changed the wines.
As you may expect, the wines maintained their initial 'personalities' as a young child may have the same core personality from infancy to advanced years.
Very generous of the Symington to come, bring their best vintage wines, and explain why 2011 is a vintage in itself.