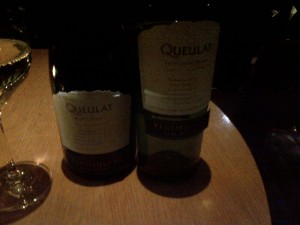 Queulat Sauvignon Blanc and Queulat Pinot Noir from Ventisquero
So last night at my favorite BYOB restaurant I brought these fabulous wines from Chile! I am on a Chile kick right now … last week I attended a great tutored tasting of Chilean wines and am so excited about the quality and all the different terroir!
When I lived in Los Angeles, I "thought" I spoke Spanish (my teacher at the Institute Cervantes here in NYC thinks otherwise) but I really have to study and learn it all again, because this is really going to be the up and coming area.
So last night's wine were single estate wines – I could tell even blind tasting them from the rich concentration of fruit.
Queulat Single Vineyard Sauvignon Blanc 2012
This is from the Leyda valley, where you will find cool nights from the proximity to the ocean. Rich tasting from six months on the lees and very elegant.
Queulat Single Vineyard Pinot Noir 2010
This Pinot Noir is from the Casablanca Valley. It was absolutely stunning! I had it with salmon and thought it was really delicious with restrained fruit in the old world style.  Aged in 80% neutral French oak barrels for 12 months.