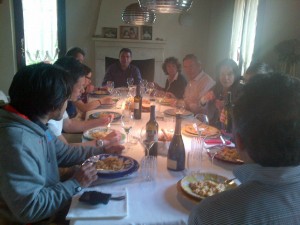 "I am so excited to show you our terroir!" exclaims Luca Cuzziol, an owner with his lovely wife of Biancavigna in Conegliano-Valdobbiadene, Italy. I jump into his car and we are off to explore the three pieces of land he owns in the Conegliano-Valdobbiadene DOCG region, characterized by spectacular topography with steep hills … the hills that make this wine so special.  The land includes vineyards in separate regions: Conegliano, Soligo, and San Pietro Feletto, all characterized by different aspects and soil types.
After forty minutes of racing around the region, Luca and his wife welcome a small group into their lovely guest house, where we meet the lovely young Bianca, the couple's daughter, for whom the winery was named. More than a decade earlier the couple met in the wine trade, and quickly made the decision to start a winery.
Given their passion, you can understand that the wine is wonderful. We taste and compare vintages, starting with a "glass in the vineyard" as the couple are eager to have us taste the fruit of their labor exactly where the grapes were grown.  We also try different styles of wine and I think back to the tour of all the vineyards, where it all happened.
Beyond the excellent wine, the couple clearly love to entertain … and to be entertained by them is quite a treat! Lots of specialty cuisine, all paired with their delicious wine! You can find out more here