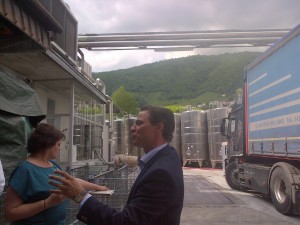 "Welcome to Bisol," says Roberto Cremonese, energetic export manager at Bisol, a large quality Prosecco DOCG producer in Conegliano-Valdobbiadene.
Evidence exists of the Bisol family in the historic heart of the production area of Prosecco, the area called "Chartice" in the very prestigious Cartizze hills – can be found as early as the sixteenth century.
After WWII Desiderio Bisol and his wife assigned different business roles to each of the four children, resulting in Bisol becoming a major brand with many styles of Prosecco.
Roberto takes us around the winery, showing us the state-of-the-art machinery, the impressive hills, and the delicious line of wines with their many different styles.
According to Roberto, Prosecco has a very fashionable image around the world, with people loving the sparkle and fresh flavors, yet do not feel they have to wait for a special occasion as most would for Champagne.
Interestingly, I came upon some reviews of Bisol Procecco on the Tesco website and was not surprised the glowing reviews! As Roberto predicted, many wrote that they bought the Prosecco for a birthday and really liked the flavors. Roberto seemed to know a lot about his market, which he considered mostly young and female.
The caves in this ancient estate, where we had our tasting, are incredible and very romantic!