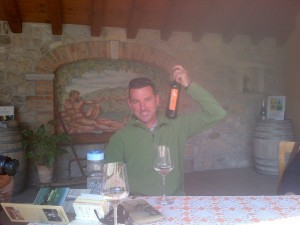 Wearing a lizard green shirt,  Giovanni Frozza greets me at his family"s winery in Valdobbiadene. Youngish and fit, he explains the details of the winery which has been in this location for 80 years and a few kilometers since 1890.
Standing in the distance as we talk and taste at a sunny picnic table is his energetic white haired mother and wife who wears a fashionable dress.
The still white wine (2012) is crisp and delicious – as refreshing as a spritz of lemon on a hot day. In Crisp 2012 still white. The first Conegliano-Valdobbiadene (CV) we try is a field blend. It is crisp and floral and delicate. The single vineyard (one hectare)has more depth of minerality and more atmopsheres of pressures (frizzante vs spumante).
We try the extra dry with 15 grams of residual sugar which is the most popular in his portfolio. Next is the col fondo, which is second fermentation on tthe bottle like cava or Champagne. We taste the same vintage only this time the. The difference is that in traditional method there is a disgorgement to remove the yeast. The yeast remains in the bottle during the Col Fondo method.  We try the 2007 which has the aroma and flavors of bruised apples like mauzac in France.
And the gossip? Well, there is discussion if second fermentation in the bottle (col fondo) should be a new category. We also speak about his thoughts on competition from the Prosecco DOC, Cava, and Trentino Doc, but he feels there is no competition because each of the products are unique. He feels his DOCG wine is completely different and his terroir very different. At this moment he takes out a map to e0plain. "This is the beauty of how it is different."