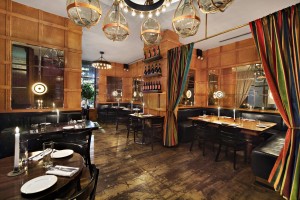 So I had such a fab time meeting Winemaking brothers, Matteo and Jacopo Giustiniani at Jacopo's new Felice wine lounge in the financial district.
Both brothers are incredibly charming, and I had the very lucky experience of being able to speak to both of them in depth, beginning with Matteo, who attended wine school in Bordeaux and through the network was able to study and work under the top winemakers in that region.
The Giustiniani family inherited great terroir, with specific parcels and soils suitable for different varietals. Last night we tried their white Vermentino 2012, Sangiovese/Merlot blend rosato 92012), spicy red Villa Sardi Rosso 2011, and the Fattoria Sardi Sebastiano Merlot 2008, made from Merlot, Cabernet Savignon, and Sangiovese aged for 18 months in French Oak, 30% new.
The wines were all very well crafted, with the Felice chef taking great care to create the appropriate pairings. The Rosata was delicious with the antipasti misti, and the ravioli pasta with spinach and ricotta went nicely with the spicy villa Sardi Rosso. My favorite wine was the champion Merlot, that was delicious with – and without – the grilled sirlon.
Anyway, I had a very long discussion with Matteo before dinner about the production methods and the terroir … as an MW student I basically tasted the wine and told him how I though it was produced, what kind of oak for the reds, and how long it spent in oak.
I was lucky enough to be seated next to Jacopo during dinner, and learned all about his exciting life in the restaurant business, having started with his US based uncle here in NYC opening the various Felice wine bars and getting used to American culture and its people. He is running several of the restaurants, and strongly believes in delegation — he really likes and trusts his staff and just judging from this one night, they are extremely well trained and gracious.
The wine bar has other wines on the list apart from the family's Fattoria Sardi Giustiniani wines, yet they are favorites with the customers in all the restaurants. The food is exceptionally good and if you work in the Financial District, what a great place to hang out!