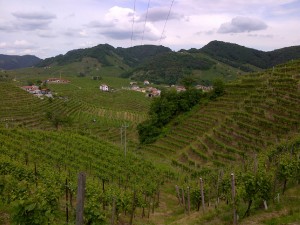 "Austria is not Australia," said our fearless leader Jason Turner, as he began his presentation on the Austrian Wine trade promptly at 10am the first morning of our trip at the famous Weinakademie Osterreich in Rust.
Austria had produced wines since the Celts and Romans, with many of the wines exported throughout the Roman Empire in antiquity. History reports that a "young slave" was often exchanged for an amphora of wine from this region. Medieval wine consumption was robust, and during the 17th century Cistercian monks improved the craft – later in the journey we visited a winery that until recently been operated by Monks. Quality was excellent and internationally recognized for the wide variety of styles and flavor profiles, especially the famous sweet wines.
Yet during the 1880s, phylloxera ravaged the region, with the two world wars furthering the devastation. After World War II, vintners began to mass produce wine, and by the 1980s Austrian wine was seen as cheap plonk. Wine brokers discovered the wines could be made more saleable by the addition of diethylene glycol (found in antifreeze) and when this was discovered by world's media, the wine business in Austria was ruined.
Actually, it turned out to be a good thing, as the wine board created very strict requirements and today –as evidenced from the tastings on our visit – quality is excellent.  The country has an appellation control system similar to France called DAC (Latin for Controlled District of Austria).
Also later in the visit, many winemakers told us that even though their lower-end wine can possibly qualify as a DAC since it is grown in the region, the wine must be submitted to a tasting panel and they feel it is important to distinguish the higher-end quality DAC wine from the very good, yet lower priced wine. A good example of this was our "vineyard tasting" with Leo Sommer, who started us out with his lowest quality Gruner Veltliner which was very good, yet not as good as the more expensive DAC version that used better selection and had longer aging on the lees.
That morning, Jason wrapped up his talk by explaining that many producers in Austria are family run, with the father and son in the vineyard and winery, the mother and daughter working in the office or with exports, and the grandmother making the food! In many instances during our visit, we saw this to be correct!
After Jason, Christian Zechmeister from Wein Burgenland began a fabulous presentation of wine from Styria … typical whites such as Pinot Blanc, Chardonnay, Riesling, Gruner Veltliner  … all were well balanced with careful attention to quality.
Yet I have to admit that what really wowed me was the rosé made from a grape called Blauer Wildbacher. While I respect rose in all styles, it is not typically my go-to wine. Yet this was a fabulous wine that had an intriguing tannic finish and gorgeous color – it really stood out at the tasting.
After this tasting, Christian brought out a few dozen Blaufrankish wines from Eisenberg and Mittelburgenland so we could compare how the dense, iron-rich soils of Eisenberg give the Blaufränkisch wines an elegant character with mineral aromas, while the Mittelburgenland wines were a bit riper and fruit-led. A few of the wines were aged in oak and quite delicious. During this trip we tasted so many Blaufrankish wines from so many regions there is truly a Blaufrankish for everyone!
Lunch and Sweet Wine Tasting at Zum Herztropferl
While New York and London were freezing, we took great delight in the warm, sunny weather.  We had a gorgeous outdoor lunch at Zum Herztropfer, yet all eyes were on the glistening bottles of liquid gold waiting for us to taste after lunch!
Christian Zechmeister brought a fabulous selection of wines including a Gewurztraminer Spatlese 2011 Winery Sommer, Donnerskirchen, a Beerenauslese Cuvee 2010 Winery Schandl, Rust,  marked by high acidity and apricot flavors, a Samling Trockenbeerenauslese 2011 that was remarkably sweet, two fine examples of Ruster Ausbruch – one Ruster Ausbruch 2009 "Auf den Flugein der Morgenrote" from the famed Winery Heidi Schrock in Rust, and the other Ruster Ausbruch Welschriesling 2011 from Winery Gunter Triebaumer, Rust.  Ausbruch is a bit like Sauternes in that it is produced from grapes affected by noble rot, yet the sugar level can approach four hundred grams per liter. In this case, however, the two wines were marked by Heidi Schrock's higher alcohol (13.5) and lower residual sugar (160 g/l) to Triebaumer's very low alcohol (8%) and 208 g/l of residual sugar.  We also experienced a Opitz One Strohwein (made from grapes dried on straw mats) that was a memorable orange color (9.5% alcohol and 7.6 g/l of residual sugar) and two Eisweins made from frozen grapes, one a Gruner Veltliner Traminer and Welschriesling 2010 from Winery Ernst Tribaumer in Rust, and the other Eiswein Gelber Muskateller 2008 from Winery Lang in Illmitz. Everyone had their favorites, yet for me the Eisweins, with their flavors of cool mango and line, really stood out as they were sweet yet also quite refreshing.
Bottom Line on Austrian Wines
The impossibly strict regulations and incredible integrity of the winemakers make this country plush with very high quality wine. The range of styles never seems to end, and the terroir is some of the most diverse and special I've ever seen. More important for sommeliers, these wines pair with an incredibly wide range of "international style" foods. At the moment, the wines are quite affordable and creative sommeliers will find them easy to pair with cuisine and at the right price, an easy sell in a by-the-glass program.
Tagged: auslese, chardonnay, eiswein, gewürztraminer, kir, pinot blanc, port, riesling, rosé, sauternes, traminer