"These are wines people my age really like and appreciate," says Master Sommelier Fred Dexheimer, an award winning sommelier and mixologist who has been the Spokesperson of Pays d'Oc IGP since 2012. Though he didn't whip out his driver's license, he appears to be somewhere in his early or mid thirties and with this statement seems to be speaking about the millennial generation (21 -30) and his thirty-something generation.
In the course of his talk, "Dex" as he is often called spoke about the lifestyle of today's thirtysomething in more detail – like Dex, who has a five year old daughter and wife, his contemporaries like to kick back, listen to music, and drink wines with friends.  And even though he is a Master Sommelier, he doesn't drink "fancy" wine at home. He drinks "good wine" – real finds like the wines he personally chose from the Pays d'Oc IGP.
The wines served with the eight-course dinner were all personally selected by Dex based on their quality as well as the passion of the winemakers and also the rock-star importers like Rosenthal, Kacher, Lynch, and others who have come to the region to find the next superstar winemakers.
The objective of the dinner was to discover the diversity and creativity of Pays d'Oc IGP wines (ranging in price from $8 to $14.99) with what could arguably be called the best cuisine in New York, given the restaurant is Ai Fiori known for its excellent food, wine, and service. Could these reasonably-priced wines hold up to the excellent food as well as a fine Burgundy or Bordeaux? That was the question.
The Region
The Pays d'Oc vineyard stretches along the Mediterranean Sea and spans across 4 departments in the Languedoc-Roussillon region of France (Pyrenees-Orientales, Aude, Herault, Gard) as well as six villages in the Lozere, boasting 125 miles of beaches and vast expanses of vineyards.
It's a gorgeous area filled with sun and historical sights, as well as vineyards. Recently it has become the new hot place for creative young winemakers and famous established names from Burgundy and Bordeaux to begin new wineries under the IGP (Indication Geographique Protegee) quality standards that guarantee quality, traceability, and Geographical Origine. The IGP is a protective EU label referring to a farmed or food product that comes from a specific geographical area and guarantees that the link between the product and the land gives (in this case, wine) a characteristic, special quality, and a reputation.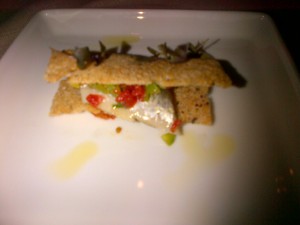 The first course (above) is cured Mediterranean sardines, black olive bread, tomato confit, castelvetrano olives, and basil, paired with Laurent Miquel Pere et Fils Cinsault/Syrah rose 2012 Pays d'Oc IGP. The pairing was a shared decision between Fred Dexheimer, the chefs, and the marketing body behind the Pays d'Oc IGP wines. The rose was a pretty light rose color and had a touch of fruit though a crisp dry finish. The reason it worked with the dish is that it balanced out the salt from the olives and sardines.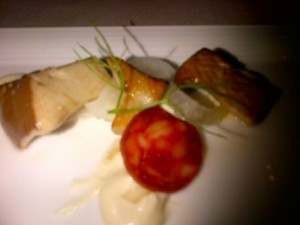 The second wine was L'Ostal Cases Syrah/Grenache Rose 2002 Pays d'Oc IGP, paired with Cannolicci charred razor clams, fennel, chorizo, manila clam vinaigrette, and lemon.
This wine is very special – it is from Jean-Michel Cases owner of the Chateau Lynch Bages in Pauillac who has started a winery in the Languedoc's La Liviniere, a village at the foot of the Montagne Noire and one of the greatest vineyards in Minevois. I had the pleasure of  meeting Jean-Michel a few years back during En Primeur, as well as his son Jean-Charles – two really incredible people. During dinner, Jean-Michel told me about his wife, who had a hand in decorating their luxury hotel in Pauillac — the devotion to quality of this couple is incredible. And this wine, for only $12, is worth far more. It is an equal blend of Syrah and Grenache, a very pretty pink color, with minerality, some floral notes, and a crisp dry finish. It paired very well with the charred razor clams in that it provided bright acidity without overpowering them.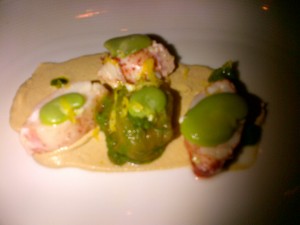 This is insalata di Asticenova scotia lobster with eggplant, fava beans, and brcccoli rabe pesto – delicious! It was paired with Les Vignerons d'Alignan Du Vent Cinquante Cinq Sauvignon Blanc 2012, Pays d'Oc IGP. The wine displayed a lovely aroma of gooseberry with fresh, lively flavors of apricot and white peach, very crisp and refreshing.
Fred Dexheimer said that what motivated the match was the "green" elements of the dish that corresponded with the green notes of the Sauvignon Blanc.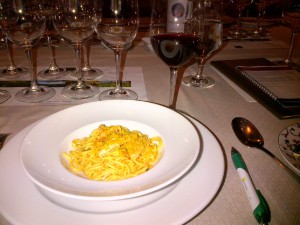 Spaghetti blue crab, lemon, bottarga, and chiles was the next dish … the spice from the chilies and sweetness of the blue crab blended very well with the Gerard Bertrand Reserve Speciale Pinot Noir 2011 Pays d'Oc IGP. This is a more rustic style of Pinot Noir from one of the Languedoc's most famous producers, as he was a former sports star and owns vines in many different terroirs. Hard to believe this level of quality at $14.99.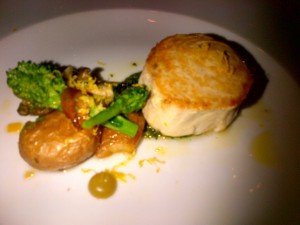 Isn't this a gorgeous looking swordfish? It is accompanied by crushed potatoes, broccoli rab, and salsa verde. The wine was 100% Chardonnay from Domaines Paul Mas, La Forge Estate Chardonnay 20012 Pays d'Oc IGP. The wine's bright straw color had golden tints, and the flavors were of tropical fruit, hazelnuts, and pineapple. Very rich and mellow with good acidity and a long finish.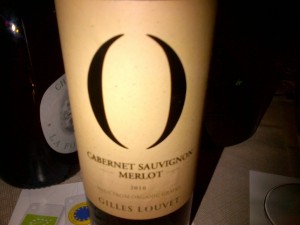 In this shot I'm featuring the wine instead of the dish because this bottle is so hot! I wrote a thesis on millennials and wine, and discovered that they really buy on labels. This is one of the best examples I've seen! The wine is "O" by Gilles Lovet, Cabernet-Sauvignon/Merlot 2010 Pays d'Oc IGP. It is 70% Cabernet Sauvignon and 30% Merlot, so rich and delcious with a lovely near black color and scented bouquet of mild spices, cloves, and blackberry. It was full bodied with enticing slight roasted coffee notes.
It was paired with Gamba di Pollo pan roasted chicken, hedgehog mushrooms, spaghetti squash, pistachio, fregola, and hen jus. The rich black flavors of the wine really went well with the succulent flavors of the dish.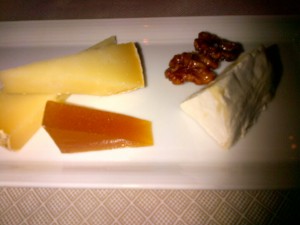 And what is the end of a meal without fine cheese? The wine served was Mas La Chevaliere Cabernet Sauvignon de la Chevaliere 2011 Pays d'Oc IGP. This wine was very rich and exciting with notes of exotic black fruit and nuts. Hard to find this level of quality in a Cabernet Sauvignon for only $13.99.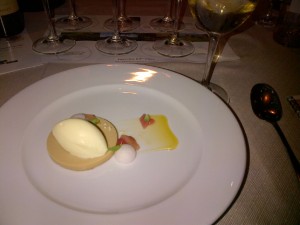 This Budino di Ciccolato carmelized white chocolate cremeux was served with rhubarb, jasmine, and tangerine gelato. It was paired with Grange Philippe Vermentino 2011 Pays d'Oc IGP, a white wine with a citrus fruit character complimented by lemon zest and a certain minerality.
Finale …
The evening was really an interesting way to re-discover the Pays d'Oc IGP wines which I've always loved and searched for in my local wine shop. They are always the best values in the store — the quality control in the region is quite strict, and the challenges of working in this gorgeous – yet remote – region are such that only the most dedicated and creative winemakers would risk the desolation of the area to make wine in innovative ways.
Filed under: Languedoc-Roussillon, News
Tagged: cabernet sauvignon, chardonnay, grenache, merlot, pinot noir, port, rosé, sauvignon blanc, syrah, white wine