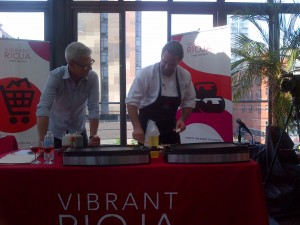 Really interesting night on the rooftop of a a downtown space. The theme was "Rioja Tames the Flame" and Vibrant Rioja brought out eight bottles of fabulous wine to pair with the cuisine of John Keller. The idea was to "think summer" and "think Rioja."
You can fine Rioja wine in all three colors, white, rosado, and red. Between the two reds, I liked the Marques de Murrieta Reserva 2007 at $23 a bottle, yet most of the crowd on this hot night were hitting on the crisp refreshing whites such as the Muriel Blanco 2012 from Bodegas Muriel ($12) or its oaked cousin, the Conde de Valdemar Blanco 2011 from Bodegas Conde de Valdemar, also $12.
The chef had a fun demonstration of many different kinds of foods that highlighted what summer grilling is all about, and how great it goes down with wine from this region.