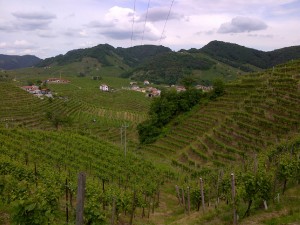 Okay, so have you ever really thought about the cork in your bottle of wine?
So here I am, wearing four inch heels on the top of a mountain where two men are vigorously whacking away at a tree with what looks to be a sort of thin shiny metal.  In the course of one minute they have extracted the thick bark..  The tree itself remains standing, charged with the responsibility of growing a new bark which could take over eight years.
Without its bark, the tree looks fresh and new – nude, actually, with its smooth beige color.  On the ground, the newly stripped bark is crawling with tiny insects, some of which are seeing the light of day for the first time. Interesting to think it quite possible that in the fullness of time, we may find this slice of bark on our favorite bottle of high end wine.
As this day happens to be the annual cork festival, dozens of spectators – many of them quite elderly and have climbed the steep hillside on crutches – applaud the performance. The same could be said for a small boy with two adorable dogs. Everyone takes particular interest in picking up some loose pieces of bark to see how it feels and smells.
Cork is a very important part of the wine industry in Catalonia, especially since cork from this region is coveted by many countries, especially by Champagne producers for their high end wines (and of course, Cava producers).
According to Manuel Pretel, Managing Director of the Institute Catala del Suro, cork can give some of the same properties as a barrel in terms of adding nuances to a wine. For example, you may know that the "toast" of a barrel (light, medium, or heavy) as well as the type of wood (typically oak, yet can also be Acacia or another type of wood) and even the size/dimension of a wood barrel can influence the oxygen exchange of a wine.
The same can be true of cork.
Having visited a cork forest in Portugal, I know something about cork … yet I was curious about the difference between the two countries.
According to Manuel, the difference is basically that it takes a much longer time (possibly 8 – 12 years) for the Catalonian cork to regenerate itself. Also, the forests of Catalonia are filled with many different types of trees.
In any event, the harvesting of the cork is a big event here. The area surrounding the forest is filled with people selling cheese, wine, and toys made out of cork.  There is an astonishing number of elderly people, walking sticks in hand, venturing into the forest … an exerting venture for anyone as the trails are steep, filled with loose stones, and quite rocky.
A series of colorful puppets mark the way to ascend to the top of the hill, where two master cutters set their eyes on a tree and begin to hack away the bark.
Of course, it is a pretty dramatic presentation  … two men sawing away, spectators jockeying for position with their video cameras in hand.
According to Manual, the "corks are misunderstood."  You've probably heard about "corked wine" and possibly have moved to twist-off caps to avoid the problem. And twist-off caps do not necessarily mean "cheap wine." As long as ten years ago, top producers in Burgundy have begun to use cork as an experiment to see if it does indeed prevent the cork taint.
Yet if I understood Manuel Pretel correctly, the "cork problem" is not necessarily due to cork.  It can be attributed to any number of things, including fungi that can be found in the vineyard, or on equipment.
"There has been tremendous advancement in the last fifteen years," Manuel says, explaining the scientific process that has been achieved in understanding how to avoid cork taint.
So at this point you may wonder what happens to the bark lying on the forest floor, and how it turns into a stopper for your favorite wine.
Well, the bark is covered with insects that have been living inside the tree, and they look pretty alarmed by the light of day. The men pick up the bark in trucks, take it to a factory of sorts, and it is left to dry outside for a few months. According to Manual, the bark is still alive in the sense its "processes" are still active. After this point, it is boiled at water with a temperature of about 100 degrees, analyzed in a laboratory in terms of its quality, and essentially "treated" in a manner somewhat similar to a barrel in terms of the specifications each individual producer desires.
In any event, it was a super exciting event – one rarely experienced by the average person.  What a fab event and introduction to the cork trees of Cantalonia