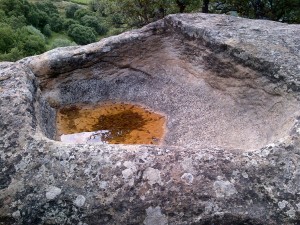 "So is the  gravity rock fermenter a marketing tool … or is it really used to make wine," I ask Raul Bobet, once I've toured his gorgeous paradise of a vineyard.
The first thing you notice about Raul is how immediately likeable he is! Many winemakers seem to share that trait, yet at first meeting Raul has that blend of brilliance, humor, and a curious sense of spirituality that may stem from the fact his vineyard is located on the site of a 12th century monastery, where the monks made wine using a gravity rock fermenter.
Before I reveal more, I need to set up the scene. Imagine driving up winding roads for what seems like a half an hour until you reach the top of a mountain. Once you reach the top, Hawks and Eagles soar overhead in the clear blue skies. There is no traffic because only a handful of people live at this altitude. Raul is quick to explain the varied terroir, which as a chemical engineer and former master winemaker for some of the best wineries around the world (including Miguel Torres), was of keen interest.  So was the high altitude which would allow him to use several varietals.
The search for this site began in 2001 when, Raul set off to look for a site cool enough to see him through what he predicted would be a period of global warming. The vineyards of Castell d'Encus lie in the far north east of Spain between 800 and 1,000 m altitude in the sub-Pyrenees, where winter snow is quite commonplace.   Vines were cultivated by monks on the site between the 12th and 18th centuries. Fermentation vats, carefully designed to be fed by gravity, were carved out of the rocks here and as you see below are in good condition and used today to make a portion of the wine.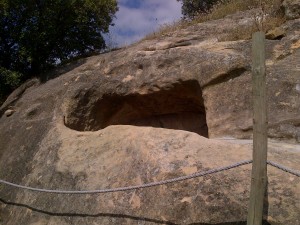 It may be hard to see in this image, yet Monks would stomp on the grapes in a basin at the top, and the juice would flow by natural gravity to a stone basin for fermentation.
At any rate, backed by a couple of local wine-loving businessmen, Raul has built a modern winery with state of the art equipment, and has 23 ha (57 acres) of tightly planted vines: Riesling, Sauvignon Blanc, Semillon, Albariño, Pinot Noir, Syrah and the four main red bordeaux varieties.
The 7,800 bottles of Ekam are made up mainly of the Riesling planted on the coolest plots of these south-west-facing vineyards with a little Albariño. As soon as I tasted this wine I thought German Riesling. Or maybe from Upstate New York or the Finger Lakes.
Raul loves to experiment … during the tasting he presented a pear-based cider (his family was apparently in the pear growing business and he gets a lot of them) and a Merlot-dominated Bordeaux blend. In terms of wine making, he likes to ferment in tank using natural yeast and fine-grained wood. He is organic yet not biodynamic. He likes to minimize S02 as much as possible.
As we taste through the wines (riesling, chardonnay, albarino, sauvignon blanc) I find the wines elegant, well balanced, with intense minerality yet finesse. With every tasting, he takes on a professorial role and pours two wines as a flight – two pinot noirs for example – and asking his visitor to say which they like more and why. Afterwards, he reveals the different winemaking methods (such as whole berry fermentation).
I find myself liking the syrah 2010 – it is a very fresh style, which is important to him.
As we tour the vineyard and its ancient church and other gravity rock fermenters, I find myself thinking about the monks who lived here centuries ago. Today is a gorgeous sunny day with butterflies buzzing through the colorful flowers, yet it must have been freezing cold here in winter. And lightning too! This area of Costers del Segre is famous for its storms.
Inside the church, 20 monks ate and slept … it is very small, about the size of a large bedroom. Raul has it decked out as a meditation room.
So to answer the question about the gravity rock fermenters being a marketing tool, as Raul explains, it can only be used as such for a certain amount of time. After that, the wine must speak for itself. And it does! If nothing else, the percentage of stone-made wine can't help but carry some residual (perhaps not tangible) elements from the distant past …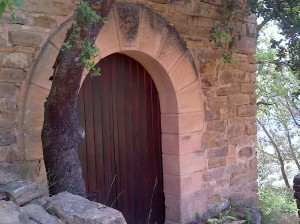 We have more wine at a restaurant in the village that is 155 years old. This town was a place where people could by livestock at auction, and as it turns out, Raul comes from a farming family. His father at the age of 14 was given the entire family income to go to the auction and buy livestock — and he came away with several bargains.
Looking at the winery, one sees that Raul has the same skill!
Castell d'Encus, SL
Passeig de Gràcia, 76, 1r 1a
08008 Barcelona, Spain
Phone: +34 97 3252974
http://www.encus.org
celler@encus.org