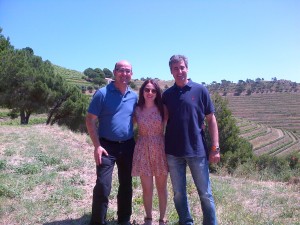 So imagine staying at a first rate golf hotel … one so elegant they serve sparkling Cava and also red wine with breakfast, and discovering the family that owns this gorgeous property also owns a gorgeous castle, a casino, and several of the best vineyards in all of Catalonia!
It all started earlier in the last century, when the family patriarch bought the castle in 1923.  Wine has been made at the Castillo Perelada since the Middle Ages, as shown in several documents and parchments from the period to be found in the library which is outrageously cool, with its collection of old books and also ancient looking traveling cases that have been stamped from around the world.
When Miguel Mateu bought this ensemble of monuments in 1923, one of his primary objectives was to revitalize the wine producing tradition, a tradition that is more alive than ever these days and which has incorporated the most modern technology to create wines that make full use of the nuances of the soils and vines of the Empordà.
Export Manager David Rovira Parker picks me up for a tour of the five family vineyards that are nearly an hour apart from the nearest to the furthest, as the objective is to create wines from many different terroirs in terms of elevation and climate.  David is a nice looking man speaking with a crisp British accent and I sense he speaks many different laguages. Yet I instinctively I sense he is not British, and he has this amazing global childhood (born in Gilbralter, stints in the Canary islands and elsewhere) that is an appropriate calling for an export manager.
In any event, we drive from vineyard to vineyard and all are quite unique, exquisite pieces of land only a keen eye can really find and appreciate. My favorite is stunning … imagine neatly (and expensively!) planted terraced vineyard overlooking the most gorgeous ocean you can ever imagine.
When you hear the phrase ¨good wine is made in the vineyard¨ it is very true. And the more that you visit vineyards around the world, you realize that it really is true. The right conditions for growing the right type and variety of grapes, in addition to a strict selection process, are key.
Once I´ve seen the vineyards, the castle with its classic artwork, and the tranquil garden (not too keen on coming back at midnight to see the casino) it is time to taste the wine. We do so in a small tasting room alongside a restaurant, which the family also owns.
This being Cantalonia, we start with two cavas, one a Brut Reserva made from the traditional grapes of macabeo, xarel lo, and parellada that is crisp and refreshing with brilliant acidity, and the next one vintagte 2008 Cava Gran Claustro which is available in Manhattan (yes!) . It is a Pinot Noir Chardonnay blend, and so similar to the highest end Champagne (the grapes and the production method are the same) I had to ask David a Master of Wine student question (we are often asked to taste Cava and Champagne together, and have to figure out which is which, and why), about how to tell them apart.
Of course I should have known this, yet thanks David for the cheat sheet answer. Though the grapes are the same, Catalonia is much warmer and the grapes get riper whereas in Champagne the grapes struggle to ripen. Here, the goal is to keep acidity high whereas in Champagne the acidity is already quite racy. The alcohol, because of the ripeness, will also be higher in Catalonia.
The other wines we taste includes Garnatxa Blanca 2012 from old vines grown on rocky terrain, the incredible 5 Fincas 2008 Reserva made from garnaxta, syrah, merlot, and cabernet sauvignon from all five family vineyards with plum and black currant notes, the Finca Malaveinna 2009 made from merlot, cabernet sauvignon, syrah, and garnatxa tinta that spends 17 months in new Bordeaux barrels made of French Allier oak, Ex Ex 9 (a limited editor of 1,982 bottles) made from a coupage of <nero dÁvola and Sangiovese from two different harvests.  It has a brilianjt cherry color, and a lot of red and black fruits on the nose and palate.  We also taste the GR 174 made from Garnatxa, Caranyena, and Cabernet Sauvignon and aged for five months in French oak barrels.  Very elegant and nicely structured.  Then one of my favorites was the Gran Cruor 2008, a deep full bodied wine with an intense finish and incredible concentration of fruit.
The family´s hotel is quite jet set, with an international crowd speaking a variety of languages and a fabulous restaurant. One of the most luxurious hotels in the region with some excellent wines.
Filed under: DO Catalonia, News
Tagged: cabernet sauvignon, cava, champagne, chardonnay, merlot, pinot noir, port, red wine, sangiovese, syrah