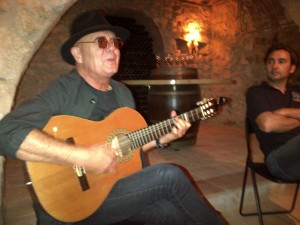 As soon as Jeci Llopart, a ringer for the dark-haired comedian actress Krysten Ritter (think the sidekick in "Diary of a Shopaholic and many other films and TV shows)  says hello you know it is going to be a fun night!
Until this visit, I never realized that Cava producers have such incredible creativity and a sense of humor.   Yet as a group, Cava producers want to show off their terroir — even if that terroir is a few miles from the winery and/or happens to be on very steep slopes.
This terroir is very special … according to a document written in Latin and dated 1385, a Llopart family's ancestor, Bernardus Leopardi, was granted some vineyards located in the present country estate.
Over the following centuries, the Llopart family cultivated traditional agricultural Mediterranean products – grapevines, wheat, and olive trees, and at the end of the nineteenth century decided to devote themselves to wine production.
It was a difficult start, yet by the 1950s Pere Llopart Villaros energized the family business and positioned cava as a high quality product.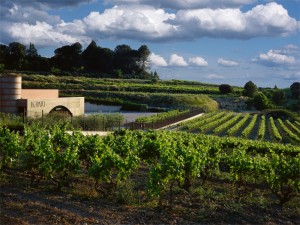 Staunch Supporters of Quality
Today the family are staunch supporters of quality and as you well know, it all starts with the grapes. As a Master of Wine student, I always "knew" it yet this trip really proved to me its importance.
We spend well over an hour visiting the various vineyards at very steep elevations (the better to attain good acidity) and even enjoy some Cava which "magically" is pulled (nicely chilled!) from one of the ancient stone huts on the property.
Cava Party in the Old Farmhouse
Though they have state of the art equipment, prefer to show off their Cava at the traditional family farm estate, which had only recently been remodeled for visitors. We start with a Cava tasting around a barrel, and then we "descend" (that is the right word) down a trap door in which a vertical staircase takes us to the "cave" below, where we enjoy a Catalan feast and hear traditional music of the area!