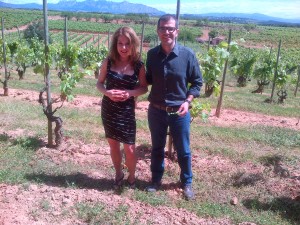 "Welcome!" says Ton, explaining that his name is "short" for Anthony.
As soon as you step foot on the winery, you can see the "Recaredo" name stamped on an ancient stone, and feel certain that "good things" are in store.
Ton is a super nice guy … he looks a little like a hot young professor, and talks like one as well — the kind of professor that is always saying new exciting things and is always in the moment.
Immediately, he transports his visitors into the "world of Ton" or more precisely, the "world of "Recaredo" his winery.
It is possible that visitors may look at this incredible paradise of terroir and assume Ton had a silver spoon upbringing … to be clear, the fantasy is that someone with this quality of terroir was born to the land.
Yet the story is more intriguing!  Ton's grandfather made bricks for a living, yet at one point had the opportunity to buy a piece of land in the Cava DO.  He did not have very much money for anything — according to Ton — not even enough money for a "sunday cake" — yet he did buy a bottle of fine Champagne from time to time to see what he should aspire to.
In any event, I must set up the seen.  Ton is this super cool guy and the terroir is incredible.  It feels as if we are in the middle of nowhere. I am wearing high heeled sandals and the grains of sand scrapes against my feet. Ton leeds me to a forest where I can admire the view and here more about why Ton became certified biodynamic as well as organic.
Okay — at this point you must understand that I am a bit skeptical. Yet then he takes me through the vineyards and introduces me — almost personally — to the hundreds of snails and butterflies and other insects that make up the biosystem and explains in incredible detail exactly why he plants grass between the vines, and introduces "sexual confusion" devices from BOTH Japan and Germany and I am immediately a follower.
So after Ton shows me more organic manure I care to really see and I tackle an incredible forest (yes, still in those high heels sandals!) I really understand his vision. Yet i must tell you that at this moment, I am thinking Ton is an energetic low key biodynamic winemaker, living on the land (so to speak).
Then I hear that Neal Rosenthal is his distributor in the US.
Since I always trust Rosenthal, I am thinking that Ton has "already" been discovered.
I taste various wines under the trees with some cheese and fresh bread. Very nice and natural.
What is surprising is when I actually SEE the winery (or at least, its commercial face) and it looks like some sort of high end exclusive nightclub, with state of the art decor and cellars that never see to end.
When I reach the lowest level, an expert comes to disgorge a bottle of 2001 Cava … it is quite delicious and toasty!
The bottom line? Ton totally impressed me with his incredible knowledge and also his family history.  Here is a young man of 15 who barely knew his grandfather when he was alive, yet now he seems to have internalized his grandfather's insight and has created this incredible Cava!
Bravo!