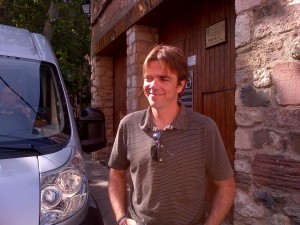 "We are the oldest winery in Priorat," says Ricard Rofes Salsench, the handsome youngish winemaker at Scala Dei Cellars.
We are standing in a small cellar, located in possibly the smallest town square you can imagine (consisting of a bright yellow postal box and a few cafes) where in the 14th century the monks made (very good!) wine.
Monks operated in these very roughly-hewn stone cellars until the end of the nineteenth century, when the government took the property of the church and sold it off to the highest bidder.  Four neighboring families, realizing the value and potential of the vineyards, collectively bought the winery and its land as a partnership.
Today the fifth generation is operating the winery, and Ricard has been here from 2007, having made wine for many other top wineries.
The vineyards of Scala Dei consists of mostly old vine Grenache, which grows at several different altitudes (300 – 600 meters )on different types of slate soil
The slate – as well as the elevation and aspect – gives each of the wines its specific character.  The average age of the vines is 55 years, which suggests intense concentration.  The concept of concentration is furthered by the selection of the grapes.  According to Ricard, the grapes are carefully brought to the winery in 15 litre baskets, with a careful selection at the table.
From other winemakers in Priorat, I heard that women are the best selectors as they are very "picky."
At this point, the grapes are organized by their terroir and elevation, with the highest elevation (and therefore, the grapes destined for the highest priced wine) to be matured in 100% French oak barrels.
I really appreciated Ricard's approach to winemaking … he is very transparent and clear. Assuming I understood the winery's approach correctly, they have some of the best terroir and highest elevation in Priorat..
The winery offers single vineyard as well as blends of garnache (the majority of their holdings) and carignan, with small percentages of cabernet sauvignon and some other varietals.  To my understanding, they pride themselves on their garnache and for decades have long-term contracts with growers of carignan.
In any event, Ricard took us to his cellar, and introduced us to the 2012 vintage maturing in different types of oak so we can compare the difference from both the size of oak (ranging from 1400 litre to 225) and the types of soil (red clay vs slate).
The "taste" of the same garnache grape from the different soils is quite varied, as well as the different types of oak maturation.
It takes quite a scientist to blend grapes from over fifty vineyards, and Ricard is clearly a master of this!