"Welcome!" says gregarious Francisco de la Rosa Torello, greeting me at the door of his luxury estate established in 1395. With the delicious fragrance of jasmine everywhere, it looks like one of the sprawling villas you'd find in a magazine like Architecture Digest.
And yes, there's something about Francisco (or "Paco") as he likes to be called) that has the air of an aristocrat, a certain joie de vive. As I am led on a tour of the estate, I discover incredible works of art (think Picasso), collections of all manner of things (wine carafes, medals) and mention of famous relatives who served as Ambassadors to exotic countries.
But of course this visit is all about wine. While wine did not make the family fortune in 1395 (it was access to water for farming) but wine (Cava to be more precise) is the reason for the visit tonight.
All the wines and cavas from Torello originate from the vineyards of Can Marti, which the family has had since 1395, and includes the typical Cava grapes of Xarel-Lo, Macabeo, Parellada, and also Chardonnay, Muscat, Cabernet Sauvignon, Merlot, Pinot Noir, Syrah, and Garnacha.
As Paco leads me around the cellar, I see gleaming new state of the art equipment, and am led to understand that quality – in terms of selection of the grapes and their proper vinification – is the main goal.
Beyond Cava, the family is producing still wine and I am able to true a new 2012 white creatively called "Malvarel-Lo" 2012 which is a blend of Malvasia and Xarel-Lo. It's style is that of a young fresh aromatic wine and achieves that goal. The two grape varieties are harvested together, macerated together for a few hours to extract the aromatic potential, then pressed together. Very nice.
Now it's time to get on with the serious business of Cava. Torello does a great business with Magnums, and in the cellar Paco gives a demonstration of how each Magnum needs to be disgorged by hand with a curiously ancient looking machine.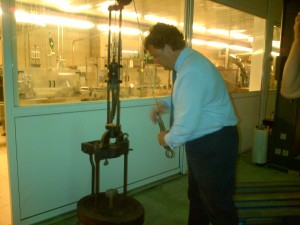 The varieties of Cavas seem endless, and my favorite (by concept, if not by taste ( is the Torello Brut "By Custo," The First Tridimensional Cava. To sample it, it is necessary to put on some groovy looking 3-D glasses.
This Gran Reserve (launched for their stand at Alimentaria 2012) is a gorgeously designed bottle and box creation, with a stylized 3-D photo of a woman meant to communicate the joie de vivre of Cava. Because of the decadent wrapping it is a fun wine to drink yet also very delicious.
In the course of the tasting, I taste the Brut Gran Reserva 2008, Gran Torello Brut Nature, Gran Reserva 2007, Torello Brut Reserva 2009, and the unique Torello Rose Brut Reserva 2010. The wines are all quality-driven and delightful, yet their flavor profiles are distinct.
So distinct, in fact, that Paco arranged for a "Jamon and Paletillas" tasting to showcase the difference, by having the Torello family sommelier "pair" each Cava to a specific Jamon or Paletilla (a type of pig fed a special diet).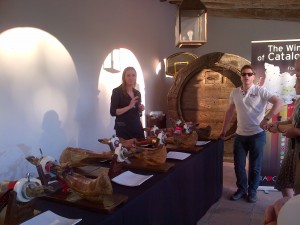 In a very theatrical presentation, the sommelier and the Jamon and Paletilla expert made a "marriage" of meat and wine based that was as delicious as educational.
I really enjoyed my visit to Torello – Francisco de la Rosa Torello is a most charismatic man who has his feet firmly on the marketplace. Equally important, he realizes the need to change with the market, and his experiments – especially with the new Malvarel-Lo and the Torello 3D by Custo Barcelona, showcase his creativity.