"My …. those are some rocks you have," I say to friendly Pares Balta export manager Oriol Bargallo, looking at the handsome display of the various soil types at the Pares Balta Vinexpo booth.
It is a busy Monday morning on the opening day of what is sure to be the biggest wine trade fair. People are racing through the aisles and placing orders at the Pares Balta table, too caught up in the art of business to notice the soil display and even more interesting, the cows horn filled with manure – a proud symbol of the winery's new biodynamic designation.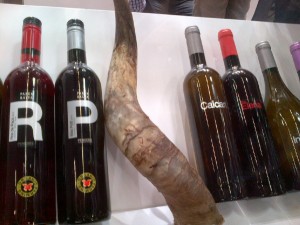 I am excited to speak to Oriel as I have been hearing very cool things about this organic and biodynamic winery that now owns several properties in various locations in Spain. Oriel explains the family's objective was to have a great microclimate diversity, a mosaic of different soils, 18 different grape varieties, organic cultivation of the vines, innovative technology, and a winery endowed with the most advanced technologies.
Skeptic that I am. I pry a few layers deeper. Organic and biodynamic is all the rage right now – especially in terms of giving the wine a marketing spin. All winemakers and producers feel they are innovative and creative. And capital could easily buy advanced technologies. So what was the family's history and true agenda?
As the tasting starts the wines begin to speak for themselves. Yet it is important to know the family were farmers – growing grapes for wineries – until 1970 when they bought the Pares Balta winery.  "Quality was always a key goal," says Oriol Bargallo, export manager. "We have an affordable range but quality is always more important than price."
1970 was almost a half century ago, so it's interesting to consider what led this winegrowing family to become pioneers in the field,  Likely it's control over the way their grapes are vinified and the creation of what is now a national, if not global, brand as the wine is sold in several dozen markets around the world.
Owners (if they are lucky) can afford to be creative, and the family (many oenologists within, including Elena Jimenez and Marta Casas the wives of two brothers) have many opportunities to experiment with grapes from different varieties, altitudes, soils, and regions as well as vinification methods.
As Oriol and I begin to taste the wines, we are joined by Jordi Fermandez Davi, the very friendly and knowledgeable Pares Balta winemaker.
It's always great to taste with an oenologist – someone a Master of Wine candidate such as myself can ask dozens of geeky questions … such as what kind of vineyard pests they may have or how many hours they let wines macerate with the skins. You may be interested in more colorful facts, such as the way sheep are used to fertilize the vines and bees are employed to fertilize the flowering vines.
We begin to taste the white wines and what is interesting is that the winery produces two wines made from 100% xarel-lo.  The Calcari has bright minerality, stainless steel fermentation, and comes from limestone soils.  This wine sees a light 4 hour skin maceration, with the grapes gently pressed and the juice fermented in stainless steel tanks at 16 degrees centigrade for 3 weeks.  It is aged in the same tanks with daily battonage for 4 months   I love this wine for its incredible minerality and racy acidity.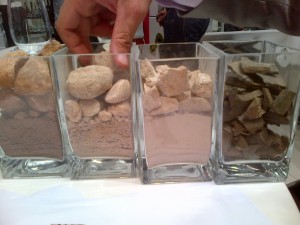 The other wine made from 100% xarel-lo is called Electio, and comes from water-retaining clay soils. This wine comes from the Cal Miret Estate.  Following a brief 4 hour skin maceration, the grape is pressed and fermented in new French and Hungarian oak barrels for 18 days at an average temperature of 16 degrees centigrade.  The wine is then aged in the same barrels for 4 months with the fine lees and given daily battonage.  Both vineyards are also from different elevations (what joy to have so many elements to play with)
Tasting the two wines, they are very different yet are the same varietal. The Calcari is almost like a Sancerre and can go with a variety of seafood. The Electio is fuller and richer, appropriate for a main course fish dish such as sole or sea bass.
We also taste a few sparkling ones, one of which is made from the traditional grapes of macabeo, xarel-lo, and parellada, with parellada (here 60%) giving the wine acidity, macabeo (25%) giving the wine a floral character, and xarel-lo giving the wine a white fruit note (such as white pear, apple, This is the Pares Balta Brut and it so refreshing and clean!
We also try the Brut nature, with more time on the lees and zero residual sugar, as well as a vintage 2012 sparkler made from pinot noir and chardonnay 65%) which has crisp fruit and juicy peach character.
Pares Balta also makes many different rose wines, and we start with the "R" 2012 made from merlot and syrah. It is really interesting! Have you ever had a "devil's food" chocolate cake? Very interesting slightly jammy taste.
We try the rose made from 100% syrah, and it is a remarkably deep red color, almost like a red one with only four hour skin contact. It is a "gastronomic" wine designated for top restaurants and the best cuisine.
Next comes the Mas Petite 2010, which is 80% cabernet sauvignon  and 20% grenache which spends 7 months in old barrels. A pleasant wine, with interesting rustic overtones.
I'm excited to try the Elena 2010, for it is named after winemaker Elena, one of the two winemaking wives of the brothers.  It is a cabernet sauvignon, merlot, and cabernet franc blend, with the varietals vinified separately under a controlled temperature of 25 degrees celcious for 18 – 23 days. Malolactic fermentation occurs with indigenous yeast and it spends 8 months aging in a blend of new and older French oak barrels. Does a wine match its maker's personality? I have not met Elena, yet it is a rich wine that tastes warmly of the sun and is very delicious.
Next comes the Indigena 2011, which is 100% garnacha blanca. After a light 4 hour skin maceration the grapes are gently pressed and the juice is fermented in stainless steel tanks at 6 degrees celcious for 17 days. It sees 4 months aging with the fine lees in the same tanks with daily battonage.  The oak all comes from the Allier forest and adding to the wines concentration and complexity is that it sees a green harvest (grapes are cut from the branches just after veraison).  It is an extremely elegant wine, very supple, and an "ambassador" of the region as the winery is historically known for its white garnacha. Very lively with a sense of earth.
At long last, we taste the red wines, beginning with the Marta de Balta 08, which recently won the Bronze medal at the International Wine and Spirits Competition.  It has incredible minerality and concentration of fruit, as well as an amazing "stone" character. The wine has natural low yields and the grape is very ripe The crucial element here is the picking day.
"To produce a great wine, you need to take risks," says Jodi, explaining what appears to be the family's motto and their fascination with experimenting with different blends and elevations.
Next is the newer Dom Romano winery, named after the Romans who lived in the area thousands of years ago. I am shown a picture of am amazing mosaic found on the property, which had been stolen last year.  The soil here is very sandy, with 120 bush-trained vines.  We taste several wines yet my favorite is the GV5, a blend of 70% carena, 20% garnacha, and 10% cabernet sauvignon.
Tasting this delicious sun-kissed wine in the midst of the busy VinExpo is an intriguing experience. The booth is crowded with buyers who have heard about the wine, its awards, and the dedication of the family who owns it.
… and I adore both Jodi and Oriel. They are both young, brilliant, and absolutely suited to what they do. Oriel is a very savvy salesperson – he is an expert with the ipad, and is constantly flipping around, showing me pictures of the gorgeous scenery or technical information about the wine. Jodi really knows his craft, and many winemakers likely envy him his job as he has so many resources at his disposal.
You can find many of the wines in America, across all price points! Last night, though, I dined at the celebrated Mercerino restaurant in Vilafranca and was delighted to see the "Mas Elena" on the wine list! Naturally, you know what I ordered!
Filed under: DO Catalonia, News
Tagged: cabernet franc, cabernet sauvignon, chardonnay, grenache, merlot, pinot noir, port, red wine, rosé, syrah, white wine