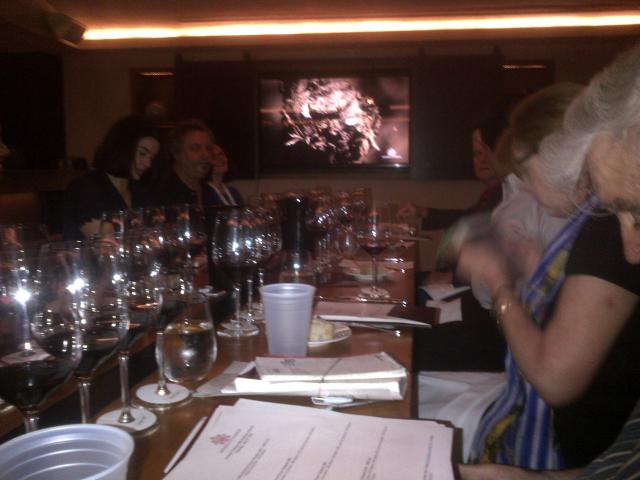 Very interesting visit today with with Santiago Achaval Becu, a graduate of the Stanford Graduate School of Business who went on to found Bodega Achaval Ferrar with three friends in 1988. Though most winemakers are well spoken, Santiago has it down to an art, entertaining and edifying a table of journalists with witty anecdotes and stories about the Malbec grape that is making the winery its fortune.
It was not until 1991 that he realized that his goal in life was to start a small, quality oriented winery, so he spent the next seven years making money in financial investment and real estate as (it appears) Argentina does not provide loans for this sort of enterprise. He and his partners searched for the best land they could find – one that happened to already have plots of old vine Malbec – and went on to produce wines made from 100% Malbec (Finca Mirador) as well as a Bordeaux Varietal under the Quimera name, which depending on the vintage can be a fairly close distribution between Merlot and Malbec (2006) along with other varietals, or primarily Malbec (31% in 2010 compared to 20% Merlot). The Merlot and Cabernet Sauvignon produced in this blend are also old vines, with the average yield per plant less than two pounds (every two plants make one bottle of wine).
During the tasting we experienced the 2010 vintage of the Achaval-Ferrer Finca Mirador 2010, which as you can imagine was quite concentrated with black fruit, savory herbs, and a long finish) as well as three vintages of the Quimera – the 2010, 2006, and 2002 which proved the wines can age extremely well. The 2002 was a particular favorite of mine, with a very black color and flavors of rich coffee grounds, spice, ripe black plum, and mission figs.  I liked the 2006 as well, which was quite different in flavor with vanilla infused black fruit, black olive, and a savory character. The 2010 was characterized by sweet violet on the nose, and coffee, black plum, black current, and black licorice on the palate It was extremely polished and silky.
The tasting took place at Manzanilla restaurant on 26th street, and were paired with some excellent small dishes, such as artisanal spanish cheeses, caramelized piquillo peppers on toasted bread, chorizo, iberico ham croquettes, traditional salt fritters, and braised oxtail.
It was very interesting to hear Mr. Becu speak during the tasting, and my notes are filled with scribbling as he speaks in metaphors and enjoys revealing secret information about himself (or perhaps, not so secret for those who know him) such as that he is obsessive-compulsive when it comes to all the details concerning the production of wine, and how he does not like to name vineyards or wines (it took him quite a while to name his daughter, he reveals).
One of the interesting things revealed about the winery is that the high acidity in the wine is due to early harvest, rather than acidification, and that depending on the vintage (06 for example) he likes to co-ferment the varietals for the Bordeaux blend or at least integrate them as soon as possible after fermentation. He refers to this as a "warm blend."
Overall, it was a very interesting hour spent with this most innovative winemaker who has won accolades from many ofthe ttop wine magazines (including "Winery of the Year" from Wine & Spirits magazine in 2009 and 2010.  He closes by saying "today I spend my days the same way I did back in 1999 when we started Achaval Ferrer, with one goal: to make world-class red wines, reflective of their origins and terroir, in limited qualities."