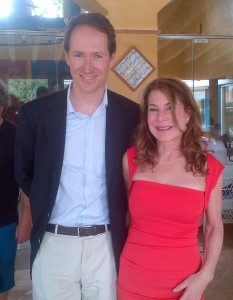 Of course you know Torres wines … they are the largest family owned wineries in Catalonia, with properties all over Spain and beyond.
Recently, I had recently visited the central winery in Catalonia and had lunch with Miguel Torres Jr, so naturally I was excited to have the opportunity to see him again Thursday at Melibea, the West Village's burgeoning new Mediterranean eatery owned by Hector Sanz.
It was a fun night, and the restaurant was full of Torres fans tasting the various wines the company produces … ranging from cava to white blends to tempranillo and other varietals.
Yet what I found quite interesting was how skilled – and natural – a speaker Miguel is … he reminded me of the late Robert Mondavi in how naturally and intimately he can connect with people in various cultures who are essentially strangers, and instantly relay  the message of the Torres family.
For example, though I had visited the winery and lunched with Mr. Torres Jr, I did not realize that his grandfather was the "second son" which in the traditional old world means that he had to seek his fortune elsewhere. In this case, the destination was Cuba, where he created a successful wine business and in the fullness of time reconnected with his older brother (who had inherited the family winery) and joined forces wit him.
Melibea was a fun place, very cool and intimate, and the cuisine was fabulous with very careful attention to detail. It's at 2 Bank street and the staff is very upbeat and friendly.  You can read more about the winery based on my visit six weeks ago here …