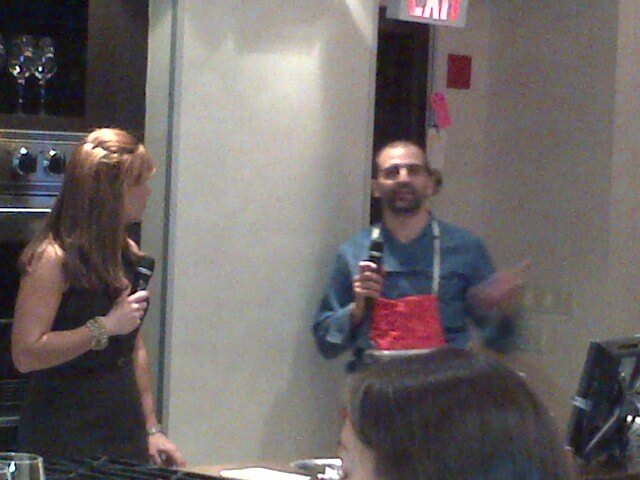 Very interesting tasting tonight at a Zonin wine pairing dinner with Aroma USA, recently voted one of the sexiest wine bars in NYC. Why?  According to Vito Polosa, whose family is from Potenza in the southern Italian region of Basilicata, it's because he selects his wine and food to be in tune with the seasons.
The evening's pairing – both the food and wine – surpassed all expectations. The several courses were light, seafood oriented, colorful and delicious yet they paired with the wine from Sicily which is often thought of as more intense in weight and minerality. All the pairings worked.  Jelena Meisel, Marketing Manager, handled everything with excellence as the MC, with the skilled, savvy somms pouring a series of interesting wines to match each dish. There was  very careful orchestration tonight to explain the wines, the cuisine, and the reason between the pairings. The audience was a group of foodies who asked Vito curious questions (what are the three most important items in your refrigerator?)
The trick wine of the evening was the white wine insolia. Curiously I never thought much about insolia as a varietal. It is like vermentino with lime minerals and minerality. 8 months in stainless steel and three months on lees then bottled. This was paired with a fab tartare of new bedford scallops tartar with beets. Other Zonin wines included Chardonnay IGT 2012 – interestingly a  sense of oak yet only 10 percent. Then stainless for eight months. The ten percent gives structure.
Nero d'avola IGT 2011 was good …garnet with bright rim on the nose intense Pepper infused red cherry some tobacco also. Then on to the flagship wine a fab 2008 nero d'avola with incredible elegance. Polished black ripe fruit. The surprise was the sparkling sweet Rosato NV … it was quite the indulgence. Coral color and residual sugar thinking 60 grams per litre. Flavors of concentrated orange.   Like orange zest. It was paired with a dessert pistachio three ways.