"Welcome!" says Andre Leenhardt, welcoming me to his 17th century winery in Pic St. Loup. It has been a long 18 mile drive from Montpelier, an ancient city near the Languedoc with a vibrant energy.
Andre is the passionate owner and winemaker of Chateau de Cazeneuve, one of the top estates in this region characterized by limestone soil along with some clay and dominated by the giant limestone cliff called the Falaise de l"hortus (Hortus escarpment 1,650 high), very mysterious and impressive.
The chateau itself dates from the eleventh century but when Andre acquired it in 1985 after his studies in agronomy he ripped up his 35 hectares of vineyards in 1985 so he could plant key varietals where they grow best in terms of soil and aspect. There is a great deal of rain in Pic St Loup ( 36 inches/900 mm a year) compared to the other regions, and also cooler temperatures. – especially the diurnal temperature between night and day. You will find a lot of garrigue in the area, that delicious perfume of rosemary, thyme, and pine)\.
At this high altitude the vineyards begin flat and rise slowly up towards the hills. The North hills with their elevation and limestone soils are coveted for the white wines (rousaunne, marsanne, vermentino, muscat), as they keep the most freshness and acidity. The Syrah is planted in the warmer areas, but the very warm south facing vineyards are actually too warm.
Tasting through the wines, one gets a keen sense of their minerality – the whites have finesse and elegance, while the reds fully bodied with a lot of flavor. The rustically charming winery uses some modern techniques such as gravity fed fermenters, with wine aged in both oak and stainless steel.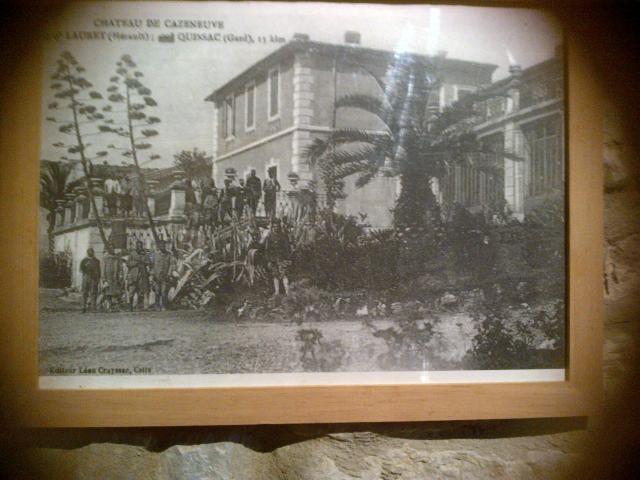 An interesting find … I caught this old photo showing African workers on the property a century ago.
Pic St Loup became an appellation in 1994, making 90% red and 10% rose wine on weathered limestone soil. Beyond Syrah, red grape varietals include Grenache, Mourvedre, and a little Carignan and Cinsault. Though whites (usually Roussanne and Marsanne) can be made here, they must be sold as IGP or the regional AOC Languedoc. The law dictates the wines must be a blend of at least two varieties, and no more than 80% of any one varietal is permitted in the blend.  One can also find organic and biodynamic producers in the area of which Chateau de Cazeneuve is one, with Andre receiving his organic certification in 2010.
How to recognize red wines from the region?
Grenache, Syrah and Carignan are the most common red  grape varieties used here, usually aged in used barrels. They are full bodied, well integrated, concentrated ripe black fruit, and have racy acidity as the vines are planted at a high elevation. Flavors include  cranberry, violet, licorice, and with maturity (and a proportion of Syrah)  dry meat or smoke aromas as well as black pepper. The color is deep purple black. Ripe fruit and firm tannins. Earthy yet with a certain finesse.
In the Master of Wine program we are taught in blind tastings to analyze a wine's acidity, tannin, fruit concentration, and other structural factors in order to logically deduce its origin. These days – when the "new world" and "old world" are increasingly difficult to tell apart because now the "old world" often produces wine in a "new world" style (and vice versa) actual origins are becoming less important than the analysis itself.
That said, with the sometimes racy acidity of red wine from this region and ripe fruit, one wonders how difficult this style would be to pick out in a blind tasting, especially considering the different types of maturation (neutral oak, blend of newer and neutral oak, length of aging). Yet the wines with 65% Syrah with Grenache and Mourvedre likely suggest the Southern Rhone or Languedoc, though they should be tasted against the same trio from Australia for comparison. Chateau de Cazeneuve also makes a 100% Mouvedre.
My memories of this Chateau de Cazeneuve are really the passion of Andre Leenhardt himself, who bought the property nearly thirty years ago having seen its potential. Of course, with that gorgeous limestone ridge and the obvious quality of the soil, one can easily imagine the excitement of a young winemaker. Yet along with that potential was the obvious capital necessary to turn the operation into a success … the winery was (and to some extent still is) quite ancient aside from the shiny new tanks and modern equipment (we are talking spider webs, ancient stone floors) and several hundred years of the ghosts of winemakers past lurking unseen in the cellar.
Filed under: French Wine Society, Languedoc-Roussillon, News
Tagged: carignan, grenache, marsanne, mourvedre, muscat, port, red wine, rosé, syrah, white wine