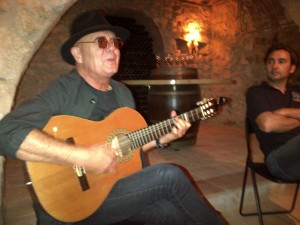 I am so excited! In less than a month I will be going to Rioja and the wine blogger's conference!
I am making appointments with producers, but if you live in NYC and like Spanish wine, you might want to check out Casa Pomona, a Spanish tapas restaurant on the Upper West Side.  They are embracing their Spanish roots with a special menu and wine program for the La Rioja Wine Festival …
— I am excited to check it out, as so far I've only been to a few tapas bars. The menu is available from September 23rd through September 30th, and features Marques di Riscal wines, and a three course presentation of authentic Spanish dishes with wine pairings.
 The 3-course La Rioja Wine Festival menu is $35 per person (tax and gratuity is not included), and includes an appetizer and main course, each with a special wine pairing, as well as dessert paired with Spanish sherry.   
Casa Pomona is located at 507 Columbus Avenue between 84th and 85th St, and the phone number is (212) 362-3200.  You can find Casa Pomona online at
La Rioja Wine Festival Menu presented with Marques di Riscal wines www.casapomonanyc.com available September 23rd – September 30th
3 Course Prix-Fixe
$35 per person
Appetizer:
Bomba; beef & potato croquette, piquillo pepper, spicy tomato sauce
rioja riserva 2007, Marques de Riscal, Rioja
Main course:
Bacalao; filet of black cod a la plancha, cherry tomato, asparagus
Rioja Gran Riserva, 2001, Marques de Riscal, Rioja
Dessert:
Xuixo; deep fried pastry filled with crema catalana, crystallized sugar
'Royal Corregidor' rich old oloroso sherry, VS 20 years, Sandeman