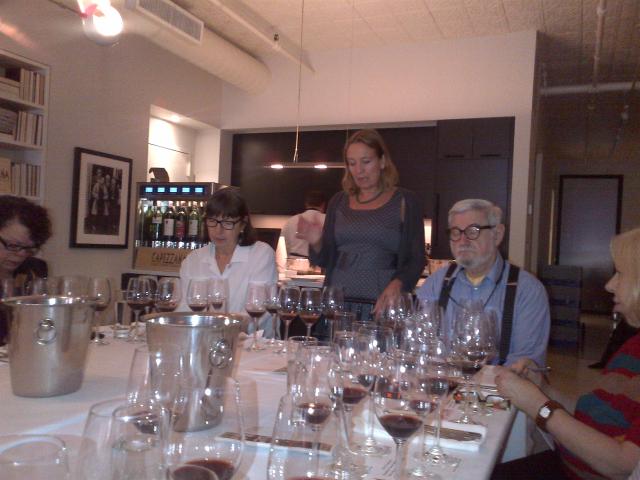 Wow, what a fab experience! It's not often that a wine lunch is held in a very swish downtown apartment, or that it features a vertical tasting of wines dating back to 1968 …
… or even that the speaker is an owner of the winery that dates back 450 years.
Of course, there are other ways to spend a sunny Fall afternoon than sipping these still-fresh vintage wines, an listening to an oral history of the family, yet I digress.
Beatrice Contini Bonacossi represents the "adult" generation of this family, and now has college-aged children of her own who are active in the wine trade. Even her mother, who is 90, is an active cook and seemingly had a part to play in the menu that included the family's bread recipe (made fresh that morning) and an incredible Faro salad with vegetables.
Yet the real reason for the lunch was of course the wines.
Tenuta di Capezzana in Carmignano Tuscany is vineyard royalty and one of Europe's most historic wine estates. Near Florence, the wines are DOC Carmignano and also IGT (think SuperTuscans) and all are incredibly well balanced. The 1968 and 1977 had lively acidity and a great sense of minerality.  Someone at our table even tasted a 1925 a number of years ago and found it quite refreshing.
We had many wines during lunch, yet among my favorites are :
2007 Trefiano Carmignano DOCG, 70 Cabernet Sauvignon, 15 Cabernet Sauvignon, 5 Cabernet Franc, 10 Canaiolo
Spicy and refreshing with concentrated fruit and a long mineral finish.
2010 Barco Real 2010
Full bodied, bold, and spicy, with a long mineral finish
2007 Ghiaie dell Furba 
Very elegant, well balanced, with elegant fruit and a delicate finish
2006 Vin Santa Riserva 
OMG the best Vin Santo I've had to date! Incredible balance between the fruit, sweetness and acidity
804 marks the first documented mention of the wine made on the property, and Beatrice and her siblings grew up in a 16th century palace. Though I am know the culinary history of France, I am learning about Italy …
Very interesting window into a fabulous wine making family and quality wines that stand the test of time.