"My wife's parents fell in love with this vineyard nearly thirty years ago," says Martin Kronenberg, the tall, broad shouldered winemaker at Brancaia wines, a  family owned winery which in the last dozen years have come to adorn shelves with quality wine in more than forty countries.
I didn't ask, yet can imagine the scene … two young Swiss newlyweds (Brigitte and Bruno Widmer) experience the ultimate bliss during a visit to Tuscany, and given favorable market conditions, are able to buy the winery. It sounds like the subject of a movie … and in this case, one that ends happily.
Yet how did they know the terroir could produce quality wine? And more important, in that nascent stage  of what I presume to be their relatively non-professional acquaintance with wine, how could they visualize a future in which the vineyards would one day produce quality wine with a fine international reputation, with their flagship wine selling over $85 dollars?
Today I had the good fortune to hear this rather romantic story told from the point of view of their son-in-law, Martin Kronenberg, who with their daughter Barbara Brancaia run the winery as winemakers as well as the business side. The couple have incredible credentials, with Barbara giving up her studies in art and architecture for winemaking school, and Martin (also Swiss) giving up his career in luxury marketing for the same cause.
Running Brancaia estate is hard yet rewarding work (I imagine) based on how things started out in the 1980's and where it is now, with three very high quality vineyards with t under their direction that require a great deal of capital, as well as time and attention. The original property had to be restored, along with improvements in the vineyard (where everything is done in the artisinal way, which is by hand).
In the cellar, every precaution is taken to preserve every winery's most precious asset: the grapes.
The family has a commitment to quality, which takes form in the gravity-led fermentation tanks.  Single variety and single vineyard grapes are vinified separately. Careful attention is paid to the type of oak, and the size of the fermentation vessel.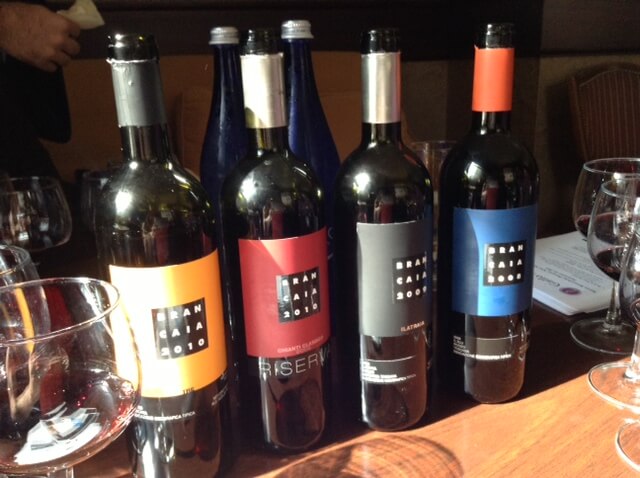 We started the tasting with the 2010 TRE, IGT Rosso Toscano, which Martin calls a "baby SuperTuscan" with softer tannins. The blend is 80% Sangiovesse, 10% Merlot, and 10% Cabernet Sauvignon. The grapes come from all three estates, the original Brancaia Estate, 32 acres of south southwest facing vines in the Castellina area of Chianti at an elevation of 800 feet. The Poppi vineyard which soars to 1400 feet above sea level (giving the wine high acidity) and the Maremma estate, with a vast difference between day and night temperature which also gives the wine more acidity.
The wine is deliciously balanced with great acidity, red cherry flavors, and an excellent structure from oak maturation. Drinking it is like "warmth in a glass" – especially in cool weather.
2010 Casa Brana Caia Chianti Classico Riserva DOCG is next, 80% Sangiovese with 20% Merlot. It comes from both the Brancaia Estate in Castellina, and Poppi Vineyard, The fruit is more intense here, the flavors richer and more sumptuous. The wine spends 16 months in a combination of new and used French barrique with a medium toast. Lots of ripe black cherry and intense minerality.
2009 Ilatraia IGT Rossa Maremma Toscana is a very special and remarkable wine.  It comes from Maremma alone, a rugged terroir with sandy clay soil near the coast at at the foothills ofthe Uccellina Mountains.  What makes it remarkable is that it is made from mostly Bordeaux varietals, 40% Cabernet Sauvignon, 40% Petit Verdot, and 20% Cabernet Franc.  It's very rich and concentrated, with incredible structure. Given its cepage, I had to really think why it would not be a Bordeaux, and the answer is that it has its own subtle Italian personality on it. A very dark intense wine with a Tuscan identity.
2008 Il Blu IGT Rosso Toscano is the flagship wine, made from 50% Sangiovesse, 45% Merlot, and 5% Merlot. It is a very intense wine with delicious spice notes and a flavor like brandied cherry, or cherry liqueur … just very dark and somewhat decadent. It's an ideal wine to have with steak, yet I'd love it with grilled salmon as well.
It was a great tasting and meeting in a number of ways, the most interesting of which was getting to know Martin and get to know the region a bit better. It was also interested to look at the winery in a different way … most people think of a winery as an entity, a factory. Yet during the meeting I really saw the people behind it, and could visualize what the land had been a third of a century ago. One also must consider the challenges of winemaking with vineyards in different regions – major capital was invested in building a state of the art winery on the Maremma estate so that the grapes would not be damaged in the near 80 mile drive to Tuscany.
Filed under: Italy, News, Tuscany
Tagged: cabernet franc, cabernet sauvignon, chianti, chianti classico, merlot, petit verdot, port, red wine, sangiovese