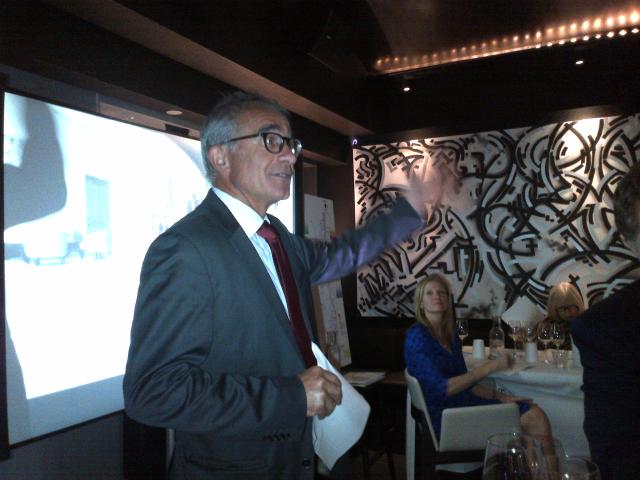 Very exciting afternoon today as I met – and spoke French with – Philippe Bardet, a charming gentleman from five generations of wine growers who a handful of years ago became President Director General of Louis Max, a company first established in 1859.
Louis Max wines are now available in the American market, and from the tasting of the wines today, they represent an excellent value in a competitive market.
The difficult thing about Burgundy is one must always obey this law:  know your producer. If you don't, you are bound to shed both tears and money.
The hurdles to overcome seem impossible:  first, for English speakers, to just pronounce the name right. People joke that Volnay achieved fame and status because it was easier to pronounce Pernand Vergelesses.
Then, you have to know the different levels, from basic bourgogne (grapes taken from all over the region), to the village level, to first and grand cru.
Then, you need to know the vintage, which can range a bit even in the different villages.
I usually take a short cut by flipping the bottle in a wine shop and seeing the importer … I always trust Becky Wasserman and Jeanne-Marie De Champ, along with a selection of others.
The wines experienced today from Louis Max were all finely made, very elegant with a lot of length, finesse and balance. I was especially impressed by the lower end wines, such as the basic bourgogne, which had a surprisingly long finish and incredible acidity. Mr. Bardet seemed a value person, and told the group that if they wanted to save money, his 2012 Saint Veran at half the price of his 2012 Pouilly Fuisse could save money. I tried them side by side and agreed with the assessment. A lot of times in Burgundy one pays for "prestige" instead of what one tastes in the glass.
The Mercurey Vignes du Domaine 2010 was elegant and finely balanced, and the Savigny Les Beaune 1st Cru Les Fourneaux 2010 really knocked me away, as did the Nuits Saint Georges 1er Cru Les Damodes 2010.
Nice to know there is a label one can trust when trolling for wine in the store or a restaurant list!