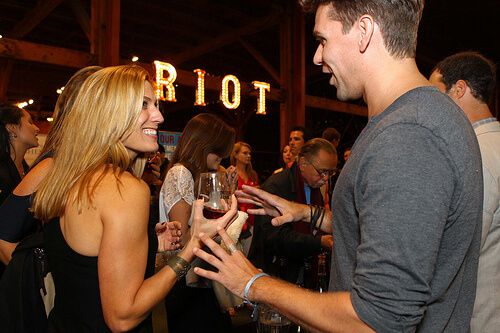 I am so excited! I first met Tyler Balliot, the co-founder of Wine Riot, on a press trip to Spain. We were the earliest to arrive in Madrid, and took off on a walking tour of the city, stopping in this Spanish food court to taste around and take pictures.
Tyler is this super cool guy, and at the time his thing was to take pictures of odd signs.
When he told me about his plans for Wine Riot, it seemed very exciting. It started in Boston in 2008.
Wine Riot is described as a nationwide, interactive wine tasting experience. This weekend it is held September 20th and 21st at the 69th Regiment Armory in Downtown Manhattan.
Here's what Tyler says:  "The idea of Wine Riot is we want everyone to be able to learn more about wine and figure out what they like.  At the event you can ask any question and we have built the app so then you can remember all the cool things you try and even buy them later. This year I am especially excited about the new Bubbly Bar where you can learn about sparkling wine and trying varieties from all over the world."
By the "app" Tyler means a special tool that has all the wine information on it, and also allows users to give a thumbs up or down to what they do or do not like.
The upcoming Wine Riot marks the third annual event in New York City where several exciting new features will make their debut, including a Bubbly Bar, highlighting seven regions around the world, and a "Wine 101" booth that deciphers eight key wine phrases through tasting, such as oaked vs. unoaked, sweet vs. dry, old world vs. new world, and young vs. mature.
Guests can look forward to tasting over 250 varieties from every wine region across the globe, with educational booths including wine and vermouth cocktails with Quady Winery; affordable wines from Bordeaux, one of France's most famous regions; awesome Loire Valley wines paired with seafood and oysters; and delicious yet-under-the-radar pours from Languedoc. Wines of South Africa, Portugal, Chile, and The Naked Grape will be present as well. 20-minute crash courses will also be offered throughout the riot, including a seminar with Brooklyn Winery detailing the trials, tribulations, and possibilities for urban oenology and a course by Immersion Journeys on top travel destinations for wine.
So below is more information about the event:
As always, Wine Riot is highly interactive; the Second Glass wine tracking free mobile app (details below) lists information about each wine featured at Wine Riot for iPhone and Android users, allowing guests to track each wine they try and rate the ones they like best, while receiving real-time updates about the event's most popular wines. Social oenophiles will appreciate the return of the pop-up photo booth, ensuring guests capture their "good side" before dropping their images on social media outlets live from the event, using the hashtag #wineriot. Delicious food sponsors include Prohibition Bakery, Tipsy Scoop, Gorilla Cheese, Brooklyn Oyster Party, Dos Toros, and more.
WHEN: September 20th, 2013 – September 21st, 2013 (You have three chances to experience Wine Riot while the tour is in New York, NY!)
Opening Night Event: Friday, September 20th, 2013: 7PM to 11PM
Riot 1: Saturday, September 21st, 2013: 1PM to 5PM
Riot 2: Saturday, September 21st, 2013: 7PM to 11PM
WHERE: 69th Regiment Armory, 68th Lexington Avenue (between East 25th and 26th Streets).
TICKETS: Prices for Wine Riot are $60 and all wine is included in ticket price.
For tickets and more information visit: https://secondglass.com/wineriot/new-york-2013/tickets/.
INFO: Don't forget to navigate the event like a pro with the Second Glass mobile app (http://secondglass.com/wineriot/mobile)! Rate and remember every wine and find the wines you love in stores!
. . .
About Wine Riot:
Wine Riot is your all access pass to hundreds of new wines. With two parts education and one part revolution, Wine Riot has reinvented "wine tasting" for the thirsty and curious. Grab a glass and hit the floor — it's you unleashed against 250 wines from across the globe. Travel the world of wine all under one roof and tackle things you've never tried before. Learn from a team of die-hard experts that bring you the brain juice via: interactive booths and crash courses loaded with tips and tricks for conquering the wine world. Fueling your night of conquest is a tireless DJ, photo booth, temporary tattoos, and a few thousand of your closest friends. Use a mobile app that tracks your favorite wines and shows you where to buy them later, arming you with all the tools needed for total wine domination.
About Second Glass:
Second Glass brings wineries and wine drinkers together through social media and in-person events across the nation by helping people uncover their new favorite wines, remember what they drink and share all of that fabulous info with their friends. Second Glass develops online and mobile tools for both wine consumers and producers. They also host Wine Riot, a huge, innovative and interactive wine event in six cities across the US. Second Glass makes wine easier to fathom in a fun and relaxing environment to enjoy; all with the goal of getting people to drink more wine. Visit secondglass.com to see what it's all about.
MEDIA CONTACTS: