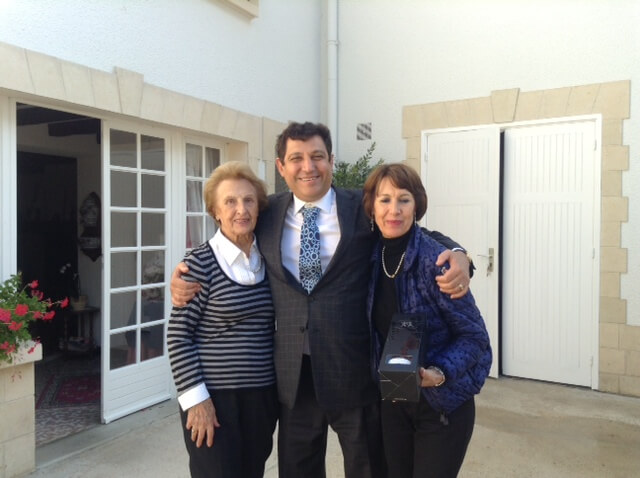 'Bonjour," says immaculately dressed Chantal Decelle-Lassalle, a very elegant looking woman who carries off the finesse French women have long been known for. Yet though Chantal has the soignee look of a society matron or high ranking executive of a fashion company, in reality she is the winemaker at the family-owned Champagne J.Lassalle, which her father started 1942 in the village of Chigny-Les-Roses on the Montagne de Reims.
What's interesting is that though this is a Champagne House, it is quite modest – it looks like a nice house in an upper middle class neighborhood. The surprise comes when Chantal walks me down to the cellar and there are thousands and thousands of bottles of neatly stacked bottles of wine. Everything is quite well-organized and clean.  I also see many bottles sticking out of the wooden apparatus known as pupitres, traditionally used in the process of hand riddling wine (shake it slightly over several weeks to slowly encourage the lees to move towards the cap).  This house is one of the few in champagne that still performs this process by hand instead of with automated gyropalettes.  "Do you do this yourself?" I ask Chantal.  The answer is no.  I also notice that everything is particularly neat, clean, and organized. "A woman's touch," she responds.
Chantal works with her mother Olga (also very well dressed and elegant when I meet her later in the visit) and her daughter Angeline Templier, who joined the in 2006. I am impressed to hear Kermit Lynch is their importer. He is a brilliant man with great instincts and of course, I love his book. I am told that in the 1970s, Kermit was the first to begin importing artisanal, grower Champagne, and the Lassalles have been in the KLWM portfolio for some time.
The family has eleven hectares of premier cru vineyards. I taste several of the wines which are characterized by a certain precise elegance.  I like the 2005 Blanc de Blanc from premier cru Chardonnay grown on the Montagne de Reims.  And how can I not respond to the 2007 Cuvee Angeline Millesimee, named after Chantal's daughter and made only in exceptional years.
A fabulous visit with an extraordinary family.
Oh, and here is a post script! I am now experiencing a bottle of their vintage 2004 "Special Club!" It is fresh, lively, well balanced, and most important expresses the family's excellent terroir. The finish is remarkable:  long, structured, and quite pointed with an expression of terroir and minerality.
The finesse is largely to the excellent vineyard holdings as well as the 2004 vintage – which is noted for its quality as well as quantity. The wines are elegant, floral, and quite fresh.
Bravo!