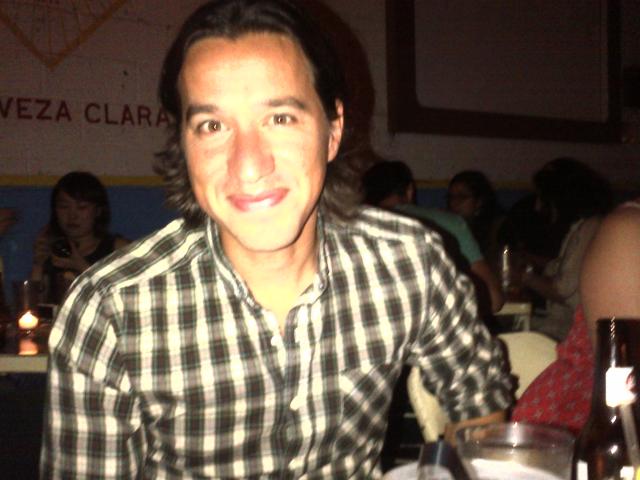 …. so it was as gorgeous night in New York, and I just happened to be invited to experience TACOMBI – a hip new taco place in Nolita.
So do not laugh, I've never been to one before, so the whole set-up — an old VW van with guys inside serving tacos, a full kitchen, lots of people sitting at simple picnic style tables eating delicious looking food – was rather new to me.
Actually, it reminded me of a colorful Disneyland ride, except here you can eat (and drink!).
The party was in honor of Tacombi's new licquer concept was developed 8 years ago on the beaches of Mexico, where a converted Volkswagen Kombi (microbus) served tacos to locals and
tourists alike.
Three years ago they packed up, and drove their Kombi's (as far as they would go) to NYC, to open their new home on Elizabeth St. in Nolita. Today,
TACOMBI NYC is a restaurant company focused on serving the city's best tacos, homemade juices, sodas, and ice cold, locally brewed Mexican beer in a totally
unique and unexpected beach side setting.
So anyway, last night I tasted 3 styles of Mezcal from the El Tinieblo ranch in Tamaulipas, Northern Mexico. It is made from a blend of Espadin, Salmiana and Americana Agave.
Joven
This is the youngest version of the product that is bottled straight after distillation
Reposado
Is rested in wood barrels for two months to a year. The spirit takes on a golden color and the taste becomes a good balance of the agave and wood flavors.
Añejo
This is the term for higher end Mezcals that have been aged for 1 to 3 years. The aging process darkens the Mezcal to an amber color and the flavor becomes richer, smoother and more complex.
Production:
First, mezcal is usually produced on a very small scale using traditional processes and without the industrial production techniques you find with tequila. A village can contain dozens of production houses, called fábricas or palenques, each using methods that have been passed down from generation to generation, some using the same techniques practiced 200 years ago. To make mezcal the piñas of the maguey plant are roasted in a stone pit covered with earth so that the sugars caramelize, then are ground on a stone wheel (often pulled by a donkey!). The ground piñas are fermented into a pulque-like liquid called tepache, which is then distilled, and then finished for bottling.
Drinking:
As mezcal is produced by the hands of a village the fruits of the labor are meant to be shared and enjoyed with others.  In Mexico, mezcal is generally sipped straight with some salt or orange slices, not mixed in a cocktail. This is how we serve it in La Brisa, in a way that it can bring people together in shared enjoyment — a communion of sorts. In moderation, it is believed that it can help control diseases such as hypertension and diabetes, and is even an aphrodisiac. In some regions of Mexico it is common that to spill a small portion onto the ground as an offering to the Mayahuel, the goddess of maguey and the fertility of the earth. We like to believe that there is a spiritual aspect to mezcal.
Very cool experience and a fun place to try in a NYC winter.