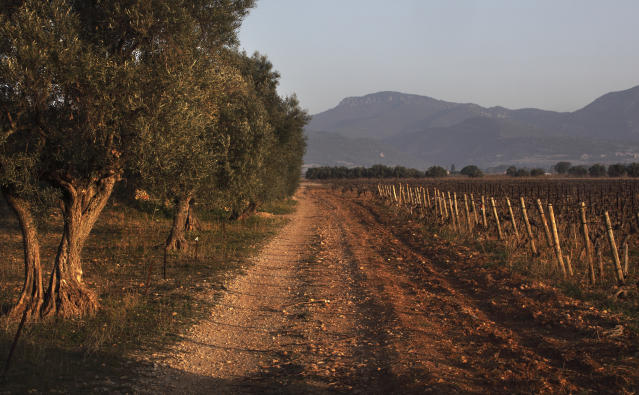 "You must be so lonely!" I say to Jeremie Depierre, the young vigneron of La Peira en Damaisela, technically located in the very hot and fashionable Terrasses du Larzac AOC.
This vineyard, with a "barn" of a winery, is located between Grange des Peres and Daumas Gassac — in fact, we visited this place after Daumas Gassac. Not only is this winery in the middle of nowhere (not particularly uncommon in the Languedoc), the area also is frequented by intense winds. Jeremie works here alone, so hearing the wind howl must be quite unsettling.
A rather strapping sort of man, the wind, and the isolation, does not seem to disturb Jeremie much. His focus is the wine, and it is frankly, quite excellent. Jeremie (who worked at Chateau Margaux and Chateau Guiraud) believes in low yields, short pruning, crop thinning, shoot removal, leaf plucking, and green harvesting. All this when the soil is very stony! In fact, the name comes from the expression "workers of the stone" in the Occitan language — or "place the stone with its best face forward."
The soils are alluvial deposits of limestone, sand, silt, and clay. The 10 – 40 year old vines are planted with Syrah, Grenache, Mourvedre, Viognier, Roussanne, Cinsault, and Carignan. As we taste through the wines in vat, we find all sort of compositions, such as Les Obriers whcih is two thirds Cinsault and one third Carignan. They are powerful wines, meant for aging. The 2006 Las Flors is 35% Syrah, 45% Grenache, and 20% Mourvedre, and received 94 points from the wine advocate. It was fab — lots of candied black fruits, chocolate, and baking spices.
After hand picking, the fruit is 100% destemmed. Fermentation takes place in stainless steel tanks and some oak vats. Pumping over and puchdowns vary based on the wine and the vintage. They are aged for 18 – 24 months in French oak barrels and casks. The grapes are vinified separately and blended prior to bottling without fining or filtration.
The winery was founded in 2004 by Rob Dougan, an English music composer.
A very special visit, yet I would not want to be here at 4am alone in the morning with the freezing wind whistling through the winery, as I'm sure Jeremie has been many times!