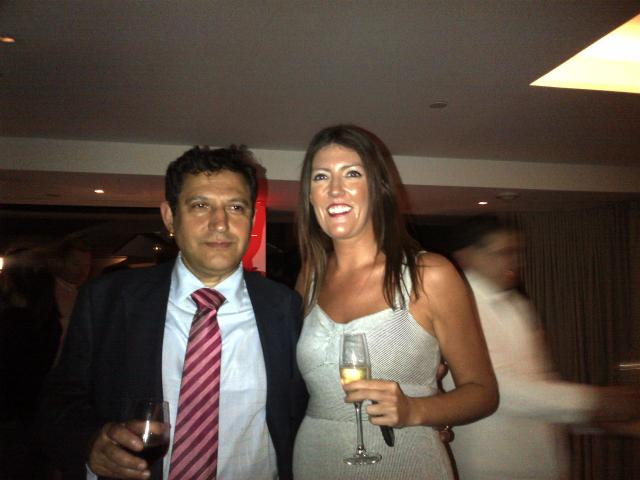 "If we want things to stay as they are, things will have to change" – Il Gattopardo, 1958
"Where did all these people come from?" I wondered, walking into the "new"  IL GATTOPARDO restaurant, which just moved from 33 West 54th St to the historic Rockefeller Townhouses, just down the block at 13-15 West 54th St.
The "opening" party for this time honored restaurant was quite lively, with Italian looking waiters in formal white service jackets serving the very attractive crowd.
Built in 1897 on "Millionaire's Row," the house is a National Register Historic Place, designed in the Beaux Arts Renaissance style by architect Henry Hardenbergh, and was called home by John D. Rockefeller for nearly 40 years. The restoration to the restaurant space is currently undergoing by K/R Architects, the same architectural firm that created the original IL GATTOPARDO in 2001 and whose founder Terrence Riley is the Former Chief Curator of the Architecture & Design department of the MoMA.
It was a fun, gossipy evening … the loyal crowd in the packed dining room above looked like regulars, and the food looked amazing.
And why not?
Owner Gianfranco Sorrentino has over 40 years of experience in the restaurant industry all over the world. Prior to opening IL GATTOPARDO with his wife Paula Bolla-Sorrentino and Executive Chef Vito Gnazzo, Gianfranco ran the food and catering operations inside the MoMA, including the groundbreaking SETTE MoMA restaurant, one of the first fine dining restaurants to ever operate in such an institution.
The restaurant is named after the 1963 classic Italian film, "The Leopard," starring Burt Lancaster and Claudia Cardinale, and directed by the legendary filmmaker Luchino Visconti, IL GATTOPARDO serves traditional Southern Italian comfort food that has been adapted for the contemporary palate without compromising the authenticity of the cuisine. IL GATTOPARDO and its team are committed to producing top quality gastronomy, to the use of fresh and well-researched ingredients, and to keeping the tradition of Italian culture vibrant and passionate.
It was a super fun evening, and from the guests dining on delicious food above – and our own bites – the slight move in location will only whet the appetite to visit more.