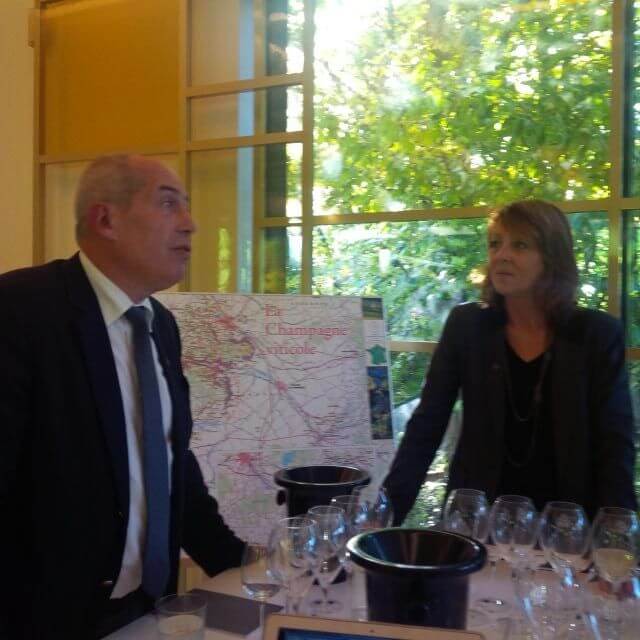 It is such a treat to visit the gorgeous estate of Champagne Charles Heidsieck! In Champagne, each "house" takes on many different appearances ….
… here, at Charles Heidsieck, the sensation is that of being in a large, well groomed park where one can stroll through the various gardens.
Of course, what really matters is the wine, and on this visit I am especially privileged to have a personal audience with none other than Thierry Roset, the Chef de Caves for Charles Heidsieck!
First, let me tell you a little more about the house itself. As I am taken on a tour of the caves – over 100 "steps" below ground" I learn that Florens-Louis Heidsieck founded Heidsieck & Co. in 1785.  He was German and perhaps either just liked Champagne a lot, or saw its potential.
Three nephews inherited the business, with Charles-Henri Heidsieck's son — named Charles-Camille, — founding Charles Heidsieck in 1851.
Also known as "Champagne Charlie" Charles-Camille Heidsieck traveled quite a bit in America to promote his wines.  After his passing in 1893, the house was managed by descendants until 1976 when it merged with Champagne Henriot. In 1985, it was purchased by Rémy Martin (now Rémy-Cointreau).
At any event, Chef de Caves Thierry Roset put on an amazing tasting, showing very clearly why Charles Heidsieck is one of the top brands in the world.
As you probably know by now, wine is made in the vineyard – and from this visit to Champagne, is especially true of Champagne because of the Grand and Premier Cru vineyards.  As I discovered in this and other tastings, vines grown on these vineyards have incredible power and structure.
So we begin with a tasting of Vin Clair – still wines  from 2013 to see how they will fit into the final blend. Mr. Roset begins by explaining that 2013 was a rough winter with lots of rain that prevented the wine from flowering as usual. It was also a late harvest, yet despite these setbacks the young wines show good acidity, great freshness, and structure.
We taste the Chardonnay, taken from an assortment of top vineyards, and even though it is so young can taste the intense flavors of fresh lime and also a floral element.
Both the Pinot Noir and the Pinot Meunier are the color of pink grapefruit juice … rather surprising, yet Mr. Roset assures us that it will become clear with age and oxygen.  The Pinot Noir is from Ambonnay, and the Pinot Meunier is from Verneuil. No Pinot Meunier is used in the reserve wines (possibly because they mature too quickly).
Next, we try a 2004 Chardonnay reserve wine from Oger — it is not sparkling, yet incredibly delicious with rich sultry flavors and generous touches of vanilla. We also try a 2004 Ambonnay Pinot  Noir reserve wine … also delicious on its own. The reason for the sumptuous flavors is that it is left in a large volume vat on its lees for several years. Mr. Roset and his team taste it five to six ties a year to see how the wine is aging.
Most houses age their reserve wines just a few years, yet Mr. Roset likes to age the reserve wines for several years and this quality shows in the final product.
While tasting a lineup of a house's champagnes is always a pleasure, there is something very special in seeing the "making of a Champagne" in action as I was able to do in this incredible session.  Also, the visit to the enormous underground cave was fascinating. With each of the 100+ steps down the spiral staircase I tried to imagine walking in "Champagne Charlie's" footsteps as well as the incredible life he must have led.
Each house has an element that makes it special and sets it apart.  By experiencing the still wines and seeing the Premier and Grand Cru vineyards they came from on the map, one can take note of their individual flavors – and that of the well aged reserve wines – and imagine the fabulous product that is to come.